Design Trends and Inspiration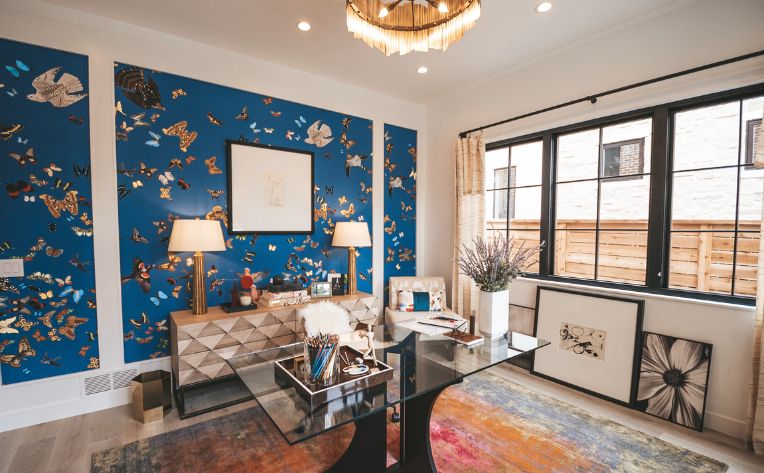 Jun 07, 2023
Within the ever-evolving world of interior design, trends continuously emerge, captivating our imaginations and inspiring us to grab hold of that inspiration and transform our living spaces. One trend that has recently taken the spotlight is the "Going Gucci" style concept.
This design concept blends futuristic design with retro design to seamlessly merge the nostalgic allure of the past with the sleek and forward-thinking design elements of the future. The trend results in a captivating interior design concept that evokes a sense of creativity and innovation.
Infuse your home with the "Going Gucci" style by pairing key accessories that are prevalent in this design scheme, like embellished wallpapers and luxurious velvet materials with bold colors, unique shapes, and special accents in your furniture. Then, round out your retro-but-futuristic look with the perfect flooring. We've gathered some of our favorite flooring products for you to explore, so you can be on your way to capturing the essence of this designer aesthetic.
Futuristic Design
The look of futuristic interior design is a captivating blend of sleekness, ergonomic innovation, technology, and avant-garde aesthetics. Clean lines and minimalistic forms dominate the design, creating a sense of simplicity and sophistication. The color palette in this design scheme often leans towards bold and vibrant tones, with pops of neon and metallic accents, which make for great opportunities to incorporate accent walls. These striking color choices go hand-in-hand with retro design, making it easy to fuse and connect the two.
Materials used while designing this aesthetic embrace a sense of modernity and innovation. Sleek surfaces like glass, polished metals, and acrylics are commonly incorporated and used to evoke a futuristic vibe. Overall, the look of futuristic interior design and architecture is created through a harmonious balance between simplicity, innovation, and visual impact. It creates an atmosphere that is both functional and visually striking, embracing cutting-edge technologies and materials to transport us into a world that seamlessly merges imagination and art with reality.
Retro Design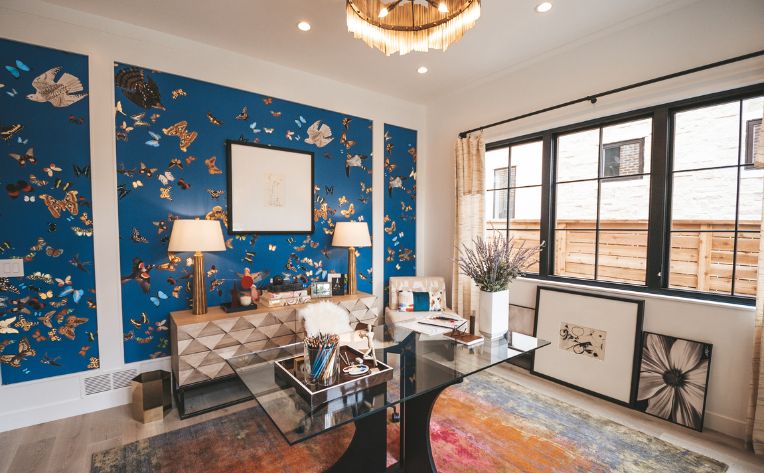 Design by MARGARITA BRAVO Photography by TIA CURRAN
Retro interior design is a delightful journey back in time, celebrating the iconic styles and trends from designers of the past. Inspired by the design aesthetics and architecture of the mid-20th century, retro interior design evokes a nostalgic charm and a sense of whimsy. Bold colors, playful patterns, and unique shapes define this style, taking us back to the vibrant and eclectic eras of the 1950s, 60s, and 70s.
Another defining feature of retro interior design is the use of iconic patterns and textures. From simple, curved geometric shapes to bold floral prints, retro interior design embraces patterns that make a statement and add a lot of visual interest to the space. These patterns are often seen on wallpapers, upholstery, and accessories, lending a playful and nostalgic touch.
Retro furniture pieces, with their distinctive curves and sleek lines, also contribute to the overall aesthetic, creating a sense of nostalgia and charm that harks back to a bygone era. Whether it's a retro-inspired living room or a funky kitchen, retro interior design brings a sense of fun and personality to any space.
Hand-Scraped Hardwood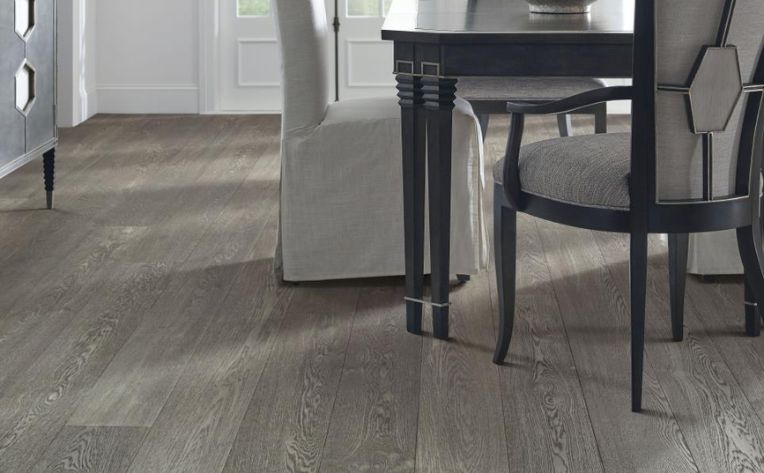 White Oak Hardwood by Flooring America/Flooring Canada
The "Going Gucci" style trend can be characterized by embracing vintage charm and paying homage to the luxurious times of the past. Hand-scraped hardwood flooring aligns perfectly with this vision, as its distressed surface replicates the look and feel of aged, reclaimed wood. This flooring choice in particular offers a unique and stunning blend of elegance, durability, and versatility.
From its vintage-inspired character to its uncompromising sophistication, this wire-brushed white oak hardwood brings a touch of luxury and enchantment to the "Going Gucci" aesthetic design concept, ensuring a visually stunning and enduring foundation for creating your extraordinary interior. You can also play with texture and patterns in hand-scraped hardwood, calling back to 16th century emerging floor designs with herringbone and parquet.
Patterned Luxury Vinyl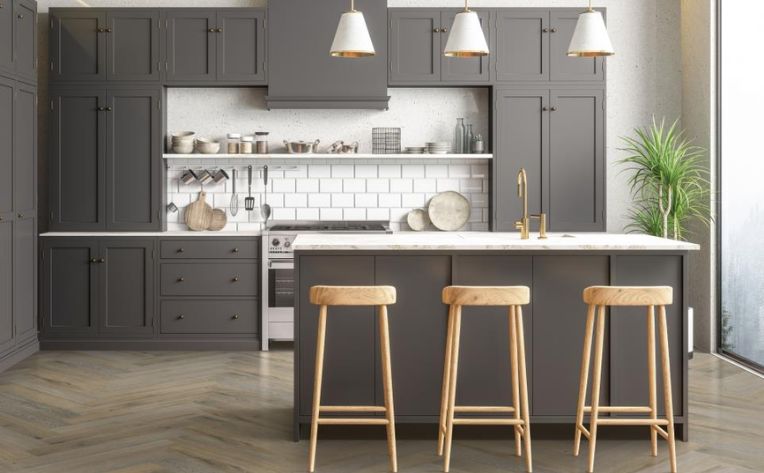 Wood-Look Luxury Vinyl by Flooring America/Flooring Canada
Patterned flooring is a perfect complement to the captivating "Going Gucci" aesthetic. The intricate herringbone pattern of this flooring in particular creates a visually stunning foundation that elevates the overall ambiance.
The luxurious vinyl material not only mimics the look of natural wood but also offers a lot of durability and easy maintenance, making it a practical choice for modern living. Whether used as statement flooring or as an accent in specific areas, patterned luxury vinyl in stone-look or wood-look becomes an integral element in achieving the distinctly bold allure that's the hallmark of the "Going Gucci" aesthetic.
Geometric Tile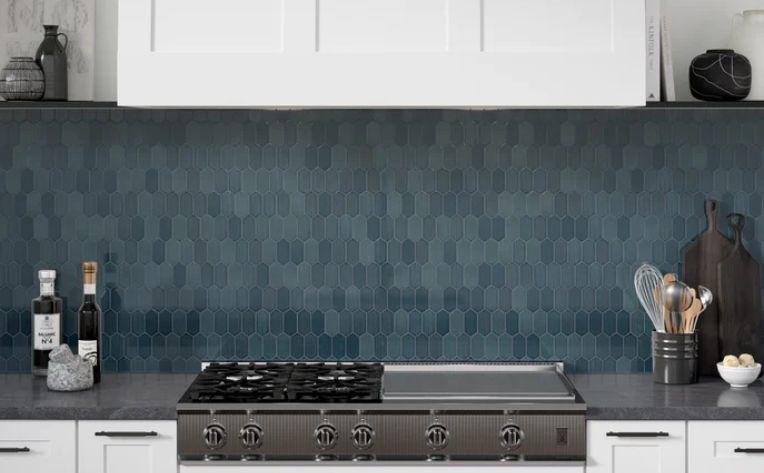 Omni Glazed Porcelain by Emser
Clean lines, symmetrical shapes, and bold patterns dominate geometric tile design to create a visual impact that perfectly complements the eclectic and futuristic design elements of "Going Gucci." The combination of intricate details and precise craftsmanship presented in this tile adds a touch of art and opulence to any room.
Whether used as a statement floor or as an accent in specific areas, this patterned tile becomes a focal point that exemplifies the essence of the "Going Gucci" concept, combining retro charm with a futuristic edge. Its versatility and ability to harmonize with a range of other elements make it a perfect choice for bringing the unique and mesmerizing designs of the retro-futuristic trend into your home.
Whether you choose hand-scraped hardwood flooring or patterned tiles to be installed, your flooring choice plays a vital role in bringing the "Going Gucci" design aesthetic to life. With careful consideration and the right selection of unique furniture, accents, and lighting, your house can become a stunning example of style, functionality, and innovation. Embrace the timeless allure and futuristic design flair of the "Going Gucci" design trend to create a living space that is both enchanting and extraordinary.
Looking for more hot trends to inspire your inner interior designer? Check out the top 2023 flooring trends on our blog!
Continue Reading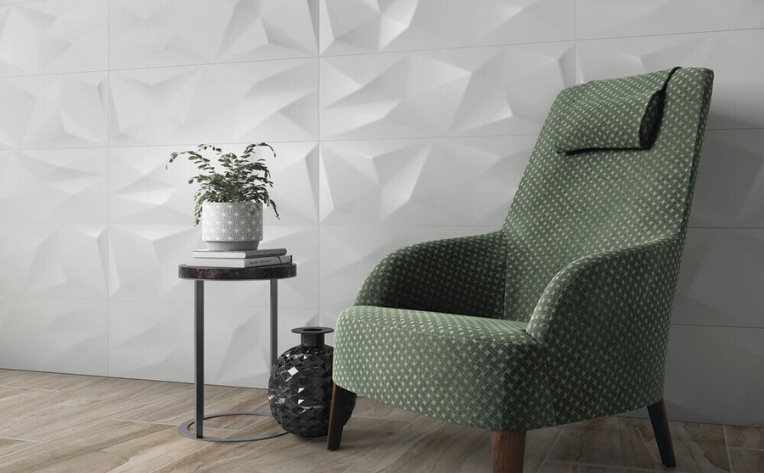 Mar 29, 2023
When it comes to predicting style for "below your feet" fashions, look around at other styles in interior design, like furniture. Curves are in for 2023 from furniture to the floor.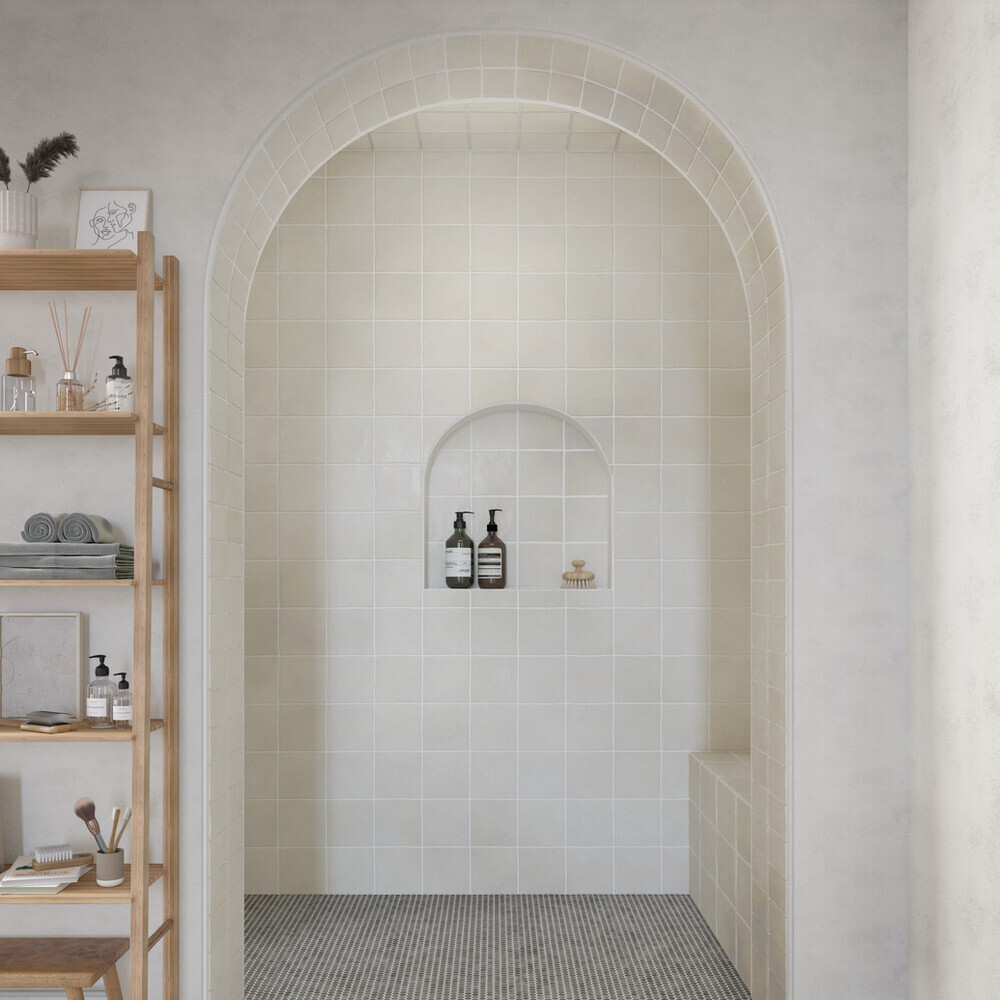 Farrier Res Tile by Daltile
"We're moving away from crisp, straight lines and are adding curved furniture pieces and interior archways. We have seen this trend in Europe for a while now," said Lisa Kooistra, of Kooistra Designs in Ontario. "Curved furniture has the same effect, because these pieces add interest and can be placed organically in an interior. This style was made famous by mid-century modern furniture designer Vladimir Kagan, who created the iconic Serpentine sofa in 1950. These sofas are largely referred to as conversation sofas or crescent sofas. They are not only meant for snuggling and watching TV, but also for cultivating aesthetic pleasure and conversation."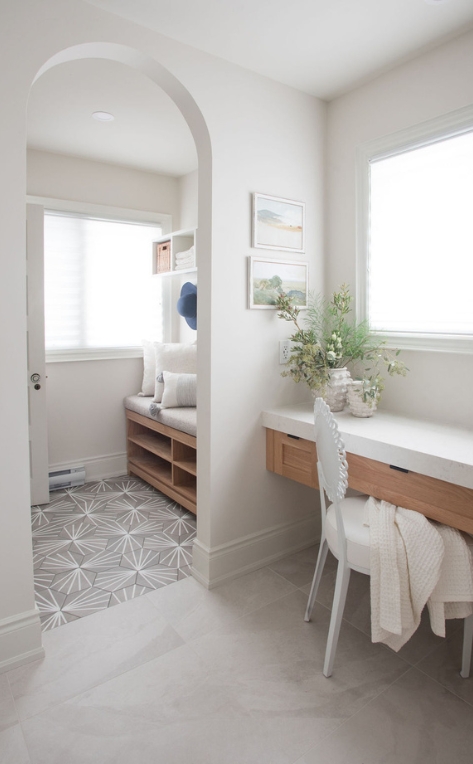 Design by LISA KOOISTRA Photography by BLYNDA DACOSTA
Curves in Interior Design
Curved elements in interior design can be beautiful in a multitude of ways, from their organic anfloord flowing feel to their ability to add energy to a space. By incorporating curves into your interior design and your floor, you can create unique and striking spaces that are both functional and aesthetically pleasing. Especially if you feature natural curves in your interiors, you can amplify the effects that this design trend has on your room.
Curves in Carpet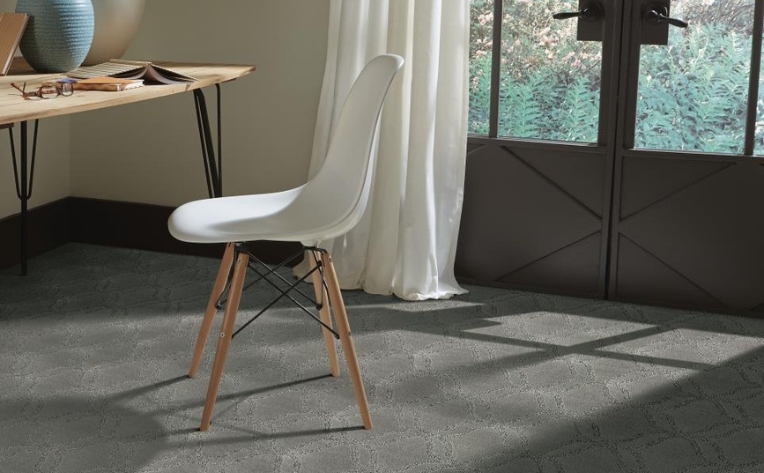 Why Me by Tigressa Cherish in Foggy Day
Choosing a carpet with curves design versus straight lines can help soften the look of a space and make it nice and inviting, especially if the rest of your apartment or home features a sharp line and edge. Not only that, but the sweeping lines of curved carpet adds visual interest and texture to a space, making it more visually appealing as a result.
With a soft textured pattern carpet, you can implement a curved design into your interior design that does all of the above and more. Browse our extensive carpet catalog at Flooring America and filter out your selection by pattern to find a sophisticated look to match your curved design.
Curves in Tile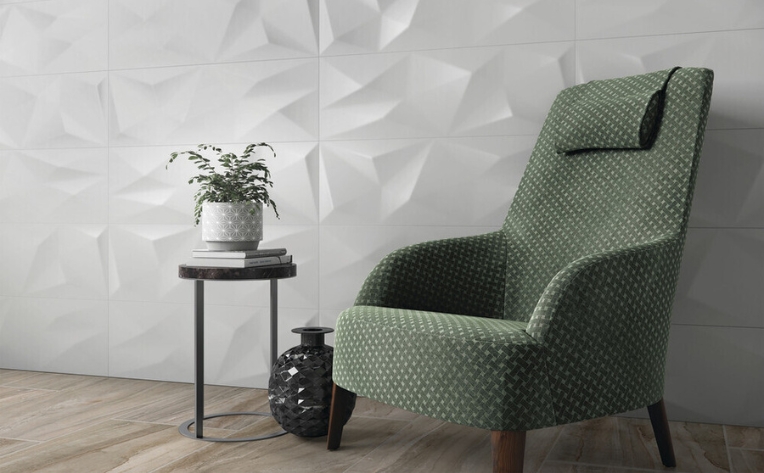 Aesthetic Geometric by Daltile
Curved tiles can add texture and dimension to a space, as the curves create shadows and highlights that give the surface depth. This can be especially effective when using tiles with a glossy or reflective finish, which can enhance the play of light and shadow.
This can be seen in the Aesthetic Geometric wall tile, which features organic, natural visuals with structured geometric textures that create a sense of movement and flow in a space, as the eye follows the curves along the surface.
Curves in Luxury Vinyl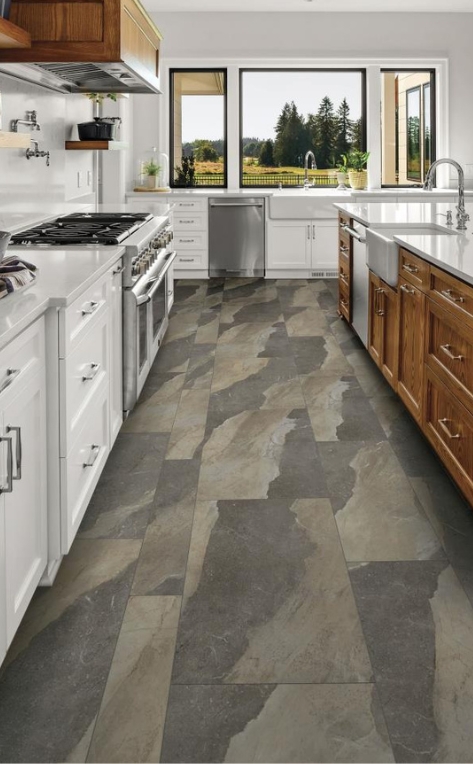 Malamute Fjord Multi Width by Room to Explore
Curves in luxury vinyl can add a touch of elegance to a space, while also providing practical benefits such as durability and ease of maintenance. By incorporating the trend of curved luxury vinyl planks into your interiors, you can create a unique and visually striking space that is both functional and beautiful.
With a marbled luxury vinyl tile, you can show off the beauty of natural stone with curved detailing in its unique pattern. Plus, reap the benefits of luxury vinyl with spill-, stain-, and scratch-resistance.
Curious to know more about the top 2023 flooring trends? Explore our blog and get the latest design inspiration with our Design at Home magazine!
Continue Reading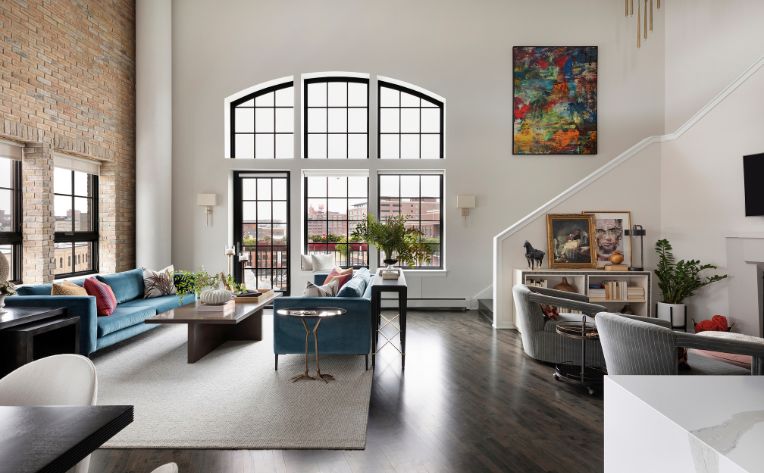 Mar 22, 2023
Written by KATE O'HARA | Design by MARTHA O'HARA INTERIORS | Photography by SPACECRAFTING PHOTOGRAPHY | Remodel by MDS REMODELING
After relocating from a large city where square footage came at a premium, this family of four was eager for more space, combined with the benefits of city living. Location and walking access to restaurants and shops remained a priority, but inside, the lofts were about creating connectedness for parents who love to entertain, while offering personal areas for two teenage boys.
What was originally a two-bedroom condo would no longer cut it for this family with teenagers. At the same time, because the condos wouldn't be their forever home, the overall goal was to make changes that would support how the family wanted to live in their new home and city and increase the property's value without any significant architectural changes.
Although boasting urban elements, this lofted condo was nothing like the sleek, basic studio you might rent in the high-rise apartments of the city —it had charm. Although it offered a great space for entertaining, the dated finishes, two bedrooms, and limited closets simply weren't enough. We found opportunities and solutions to modify this condo to fit all the needs of a busy, city-dwelling family of four.
Adding function & flow with focal points
There's a reason this family fell in love with loft living, and it was our job to highlight all the best details while ensuring that it could accommodate their daily needs. By embracing the current architecture of loft living within the residence, we found ways to enhance flow while infusing our clients' eclectic, contemporary style.
An updated palette.
A dated color palette in an array of beiges was adjusted to establish new focal points throughout the home that accentuate what the family loves most. A fresh coat of creamy paint and refreshed flooring in a dark finish created a backdrop that showcases the space, views, and furnishings.
Furnishing with intention.
Although spacious with high ceilings, this contemporary loft presented an oddly shaped floorplan. Given the unique layout of the main floor with its angled and asymmetrical spaces, our furniture plans had to be thoughtfully arranged. A fresh face meant an invitation to appreciate skyline views and help a useful stairway blend into the background. It meant transforming nooks into intentional and functional spaces with furnishings and finishes.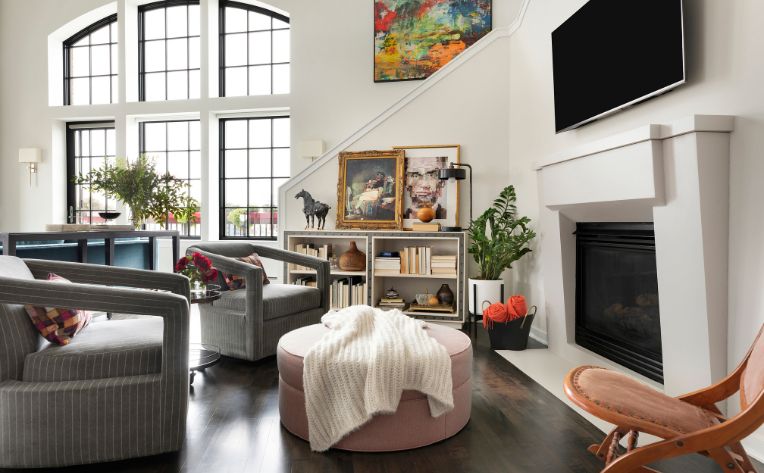 A sitting area is nestled within the staircase. Layered textiles add intimacy, and furnishings define this cozy spot to enjoy reading and unwinding. A velvet pinstripe adorns swivel chairs, and a diamond-patterned, oversized ottoman grounds the area. Favorite books, accessories from worldly travels, and personal artwork amplify the true coziness of the area.
Separate but together.
We had to be careful about furniture floor planning to ensure that the furniture did not interfere with the door to the balcony or the path to the dining room and loft staircase. The goal was to maximize seating without obstructing the view. A vibrant palette connects the sitting area to the living room, maximizing function for this family that loves to entertain while also allowing plenty of separation and privacy for everyday living.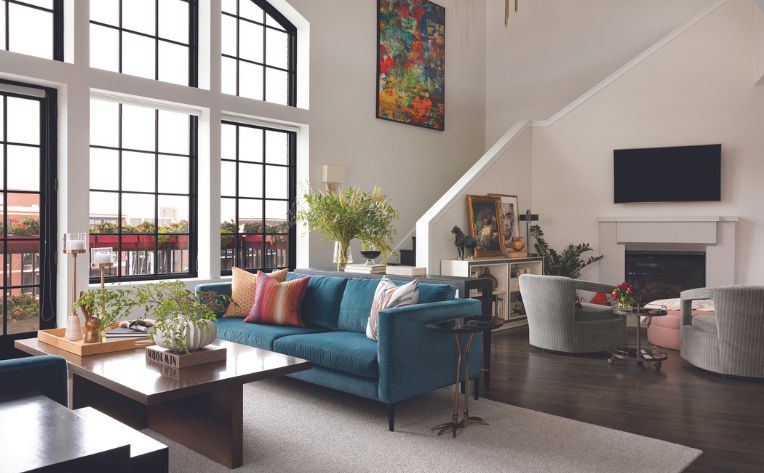 The jewel-toned sofas in plush velvet are anchored by an area rug, carving space for conversation amid the exposed brick and downtown views. The mix of materials feels slightly industrial, with texture and color elevating this seating area. A lacquered linen console behind the sofa adds functionality as a perfectly positioned drop zone at the stairway's base, leading to a loft for the boys.
Bold Oak Flooring.
The golden oak flooring needed new life, and with a mix of dated wood tones throughout the residence, it was time for a dramatic change. We kept the original hardwood floors and gave them a refresh with a dark look to complement the creamy color palette and modern design.
Uniform flooring throughout the residence makes the transition from one space to another feel natural, thereby creating a sense of cohesion and continuity. With the condo's sky-high views, the rich tone is a grounded comfort, paired with bright walls, bold details, and ample natural light
Skyline views and natural light.
We painted the window frames black to frame skyline views and create a natural focal point. The clean lines of the windows juxtapose with the warmth and texture of the exposed brick wall and let in all the daytime and nighttime light. This sets the stage for bold color and statement pieces. Sconces, floor lamp, chandeliers, and pendants offer warm nighttime lighting and ambiance when paired with the evening glow of the city.
Eating and Drinking in Style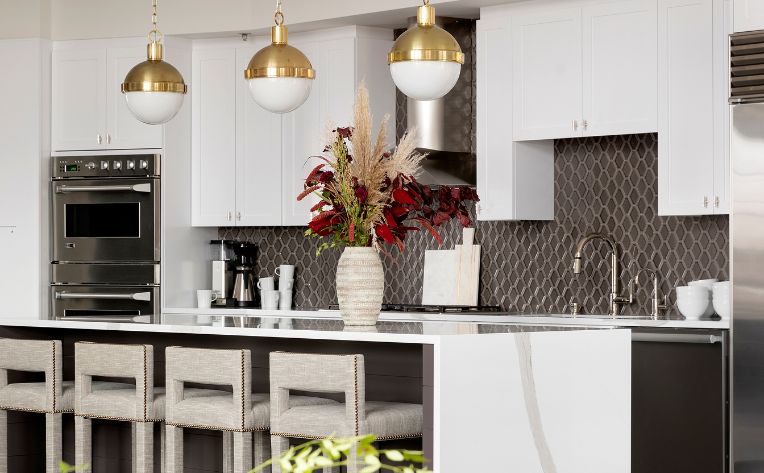 For many, especially those who love to entertain, the kitchen and dining areas are the heart of the home. These areas are natural spaces for gathering and making memories over food and drink. This family needed a kitchen and dining room that would not only serve their family of four, but also accommodate a crowd.
Two rooms made one.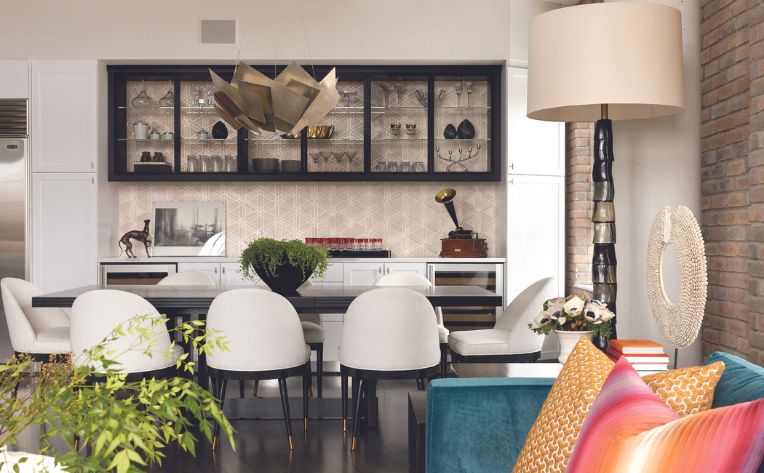 One of our first goals was to unify these spaces. We converted these rooms into an open concept layout by adding weight to the colors of the dining table, metal buffet cabinet, and vice versa in the base of the island and kitchen backsplash.
Quartz countertops match between spaces, and a metal and glass buffet cabinet stands out in the dining room. White lower cabinetry blends gracefully within the space without contributing too much visual weight. Adding even more cohesion is a wood veneer wallcovering backsplash in a bold diamond pattern, paired with a smaller scale diamond backsplash in the kitchen. Brass and silver leaf finishes add opulence and connection.
Serving up style and purpose, these details create an interesting canvas with clean lines that showcases a connectivity between rooms so that dinner parties can now happen with ease.
Furnishings make the space.
Counter stools and dining chairs are lavish in light performance fabric that is made for messes. They provide visual relief from the heavier furnishings around them. Brass accents, like the kitchen pendants, nailhead detail on the counter stools, dining chair ferrules, and buffet cabinet accessories, are understated and elegant.
The result is a kitchen transformed into a modern showstopper, blending seamlessly with the nearby dining room. Contrast and cohesion result from a balanced color palette that feels modern and elegant.
Playing Up the Primary Suite
Like much of the condo, the biggest challenge in the primary suite was an uncommon floor plan. The lack of wall space for a bed or dresser required an unconventional approach. To make the most of the room, we angled the king-sized bed in the corner between the windows. The door into the suite, which is also on an angle, is directly across from the bed and creates a welcoming feeling upon entering.
Layered wool rugs and oversized artwork anchor the space and create defined areas within this large room. The room is not only a clear sleeping space, but features a secondary area for reading and lounging near the balcony. Because this is the main suite, we wanted to create the impression of a boutique hotel in the comfort of the client's home. Finishes and furnishings accomplish this goal with clean lines, unique shapes, crisp white bedding, and plush textiles. The bold floral velvet on the ottoman served as the initial inspiration for the overall color palette and invites fresh color accents amongst the otherwise moody space.
The ensuite features a timeless yet modern black-and-white aesthetic that will never go out of style and can be paired with any accent color to instantly transform the space.
Making Room for Teenage Mood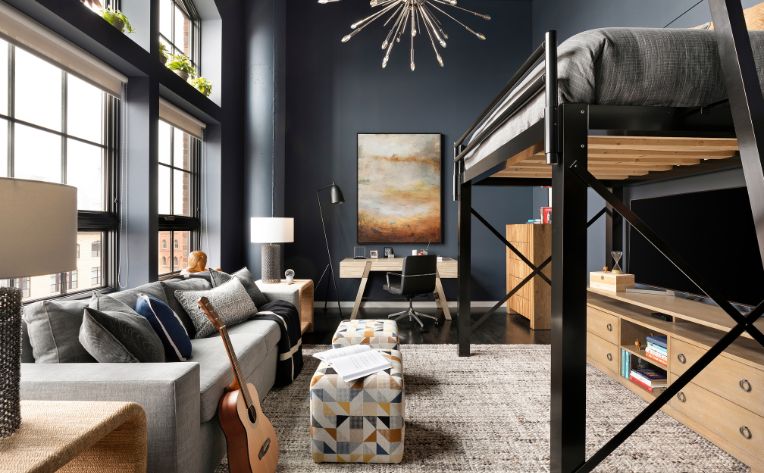 This bedroom perfectly captures the spirit of a teenager in need of his own space, a room that is equal parts modern and mature. Tall ceilings provide the necessary expanse for the youngest son to sleep, work, and play. A bold navy on the walls and ceiling offers a daring canvas for artwork and lighting, and a mix of wood, metal, and geometric elements creates a sophisticated and modern atmosphere. Natural light streams through a large window to showcase this teenager's love of plants and to highlight architectural details.
We selected furnishings that could grow with this teenager into adulthood. Vertical space maximizes the room's function with a lofted bed and designed entertainment center underneath. This is great for watching movies or playing video games. In addition, an adjacent sleeper sofa offers comfortable overnight hangouts with friends.
This room is all about fun and function, with city skyline views and modern accents that feel grown up for a teenager who is ready for adulthood.
A Loft that Packs a Punch
The upstairs loft features a cozy hangout for teens away from the busyness of the main floor. With an additional bedroom, the loft ensures that each teen has his own private space. This loft has it all, with easy access to the rooftop patio and a hidden office.
Repurposed room.
With big architectural changes out of the question, we decided to wall off a private room for the eldest son. The remaining area was repurposed for the boys to share—a TV hangout, a music room for piano practice, and a homework station built into a closet and framed by a sliding door.
A hidden workspace.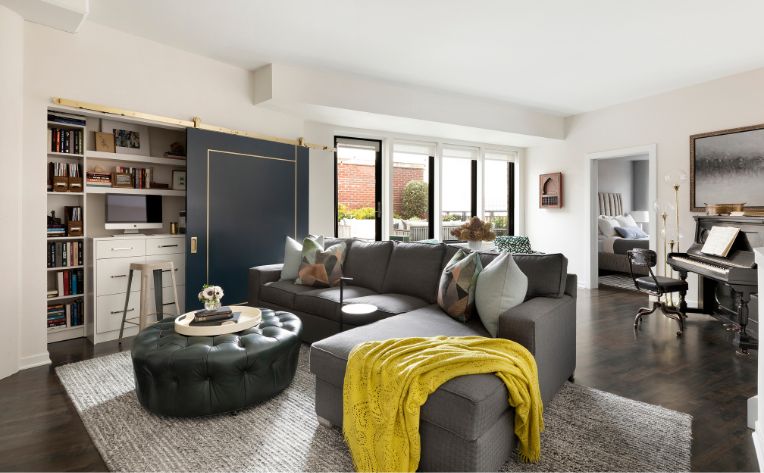 This downtown condo packs in function, taking a modern twist on home office closets, with a hidden desk behind a sleek, sliding door. This office is the perfect mix of storage and workspace that maximizes the square footage.
Planning a design is about relying on your team of designers and contractors to tailor your space to suit your family's needs. You don't need to know exactly what you want, but you should share must-haves, pain points, and inspiration to cultivate a space that's right for you.
By seamlessly mixing the couple's contemporary and eclectic styles and paying thoughtful attention to the family's everyday and hosting needs, this loft can now accommodate daily functions in the most breathtaking city landscape, offering the best of urban living.
Looking for more design inspiration? Don't miss out on the latest in flooring and interior design trends when you keep up to date with our blog. Read the latest issue of Design at Home magazine to get more designer advice and go behind the design.
Continue Reading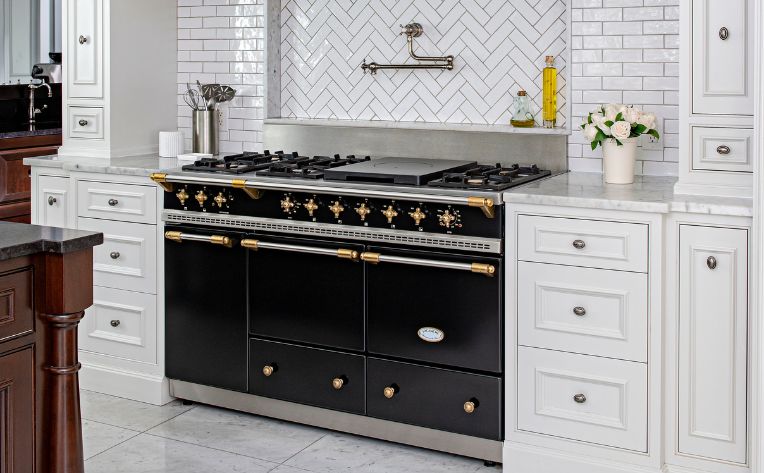 Feb 22, 2023
There's a pattern to the 2023 design trends, and one is that patterns themselves will flourish. When we think of upcoming trends in the interior design world, texture and pattern plays a huge part. Gone are the days of beige, plain, and all-white kitchens, as we move onto bigger and bolder personality in design.
Types of Texture
One of the first things you're probably thinking is "what constitutes as texture?" Texture can be found in so many home design elements from wallpaper, flooring, furnishings, and even lighting. Think about adding an accent wall to your entryway or textured wallpaper in the bathroom. Maybe you've had your eye on a board and batten look for the kitchen —give it a shot!
Backsplash tiling is another excellent way to bring dimension into your design with color and texture. From random pattern mosaic backsplashes to traditional backsplash with rectangular tiles and checkerboard patterns, backsplash tiles are an easy and customizable way to incorporate pattern into your kitchen, bathrooms and laundry rooms.
Picking Your Flooring Pattern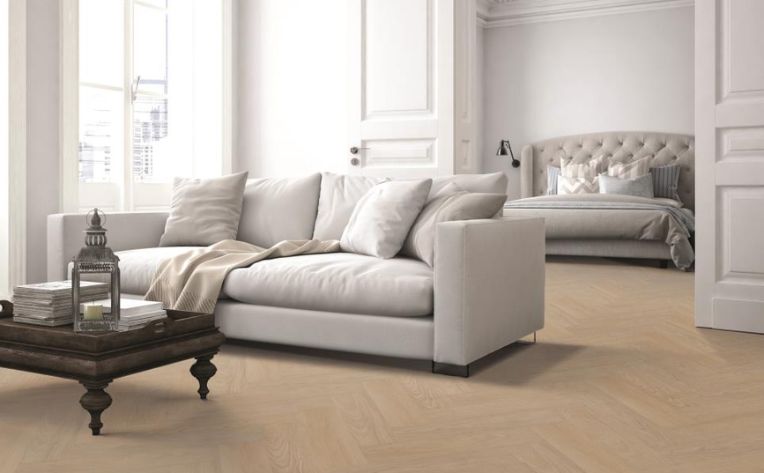 Have you ever heard the phrase build from the bottom up? When it comes to home design and flooring, we find this to be a good rule of thumb! Start building your canvas for the rest of your interior style to come alive. Pick a floor that strikes the eye and inspires the senses. The perfect floor looks different for everyone but if you find yourself gravitating towards patterns, you'll have endless option from herringbone pattern wood floors to random length planks to large format tiles.
"Floor patterns are trending—from herringbone flooring to patterned tile. The herringbone is incorporated into tile or wood, sometimes throughout a main floor or in smaller spaces such as an entryway. The eye-catching patterned tile is created in a geometric style and is used primarily in powder-room floors, mudrooms, and laundry rooms. Terrazzo tile gives a nod to the hugely popular European vibe for interior spaces—one of my favorite looks. It's available in both muted colors and vibrant tones," according to Kate Davidson, the lead designer at Toronto-based Kate + Co.
Terrazzo, graphic patterns, marble inlays, and boldly colored slabs and tiles are several flooring options that will be a hit in luxurious interiors. Look for herringbone flooring incorporated into luxury vinyl tile or wood floors, sometimes throughout a kitchen floor or in smaller areas such as an entryway.
Hardwood Flooring Patterns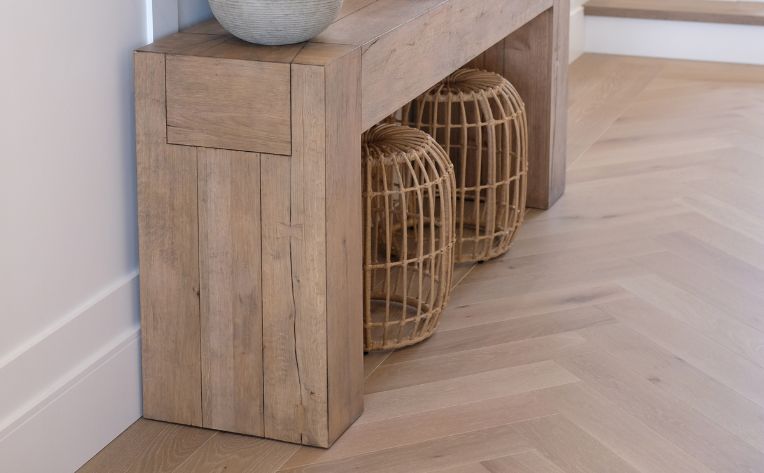 Design by TRISHA ISABEY Photography by TREVOR COOPER
Hardwood flooring in patterns like herringbone, checkerboard, and chevron are increasingly popular flooring choices and can provide an interesting contrast to existing –or new –tile, carpet, or other wood flooring choices. From carpet and wood floors to laminate and tile flooring, mixing and matching patterns of flooring can add character and visual interest to any room.
Chevron Pattern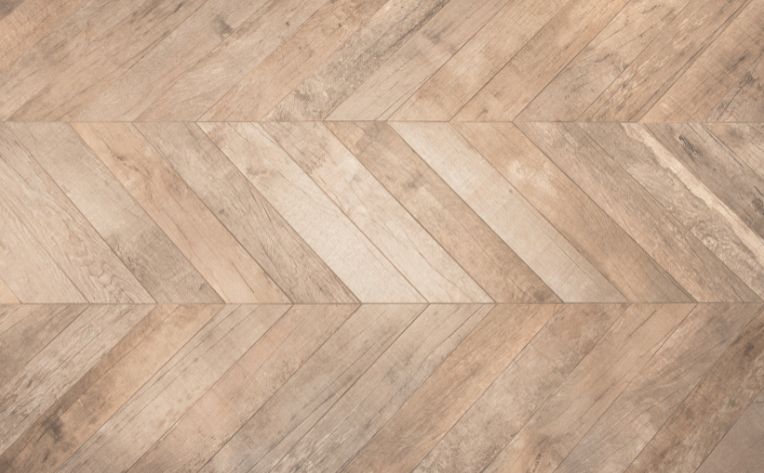 One top wood floor pattern is chevron hardwood. Chevron is a decorative design motif that's made up of two slanting lines that touch one another to form an inverted V shape. Although chevron and herringbone may look similar, they are not the same wood floor patterns.
Basket Weave Pattern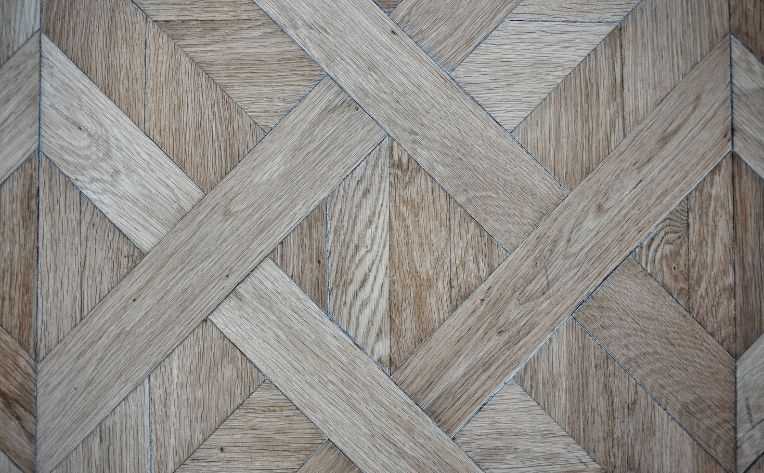 A basket weave floor is one in which the wood looks to be woven like a basket. Unfortunately, a square basketweave isn't easy to create, which is why it's so often overlooked as a hardwood floor option.
Herringbone Pattern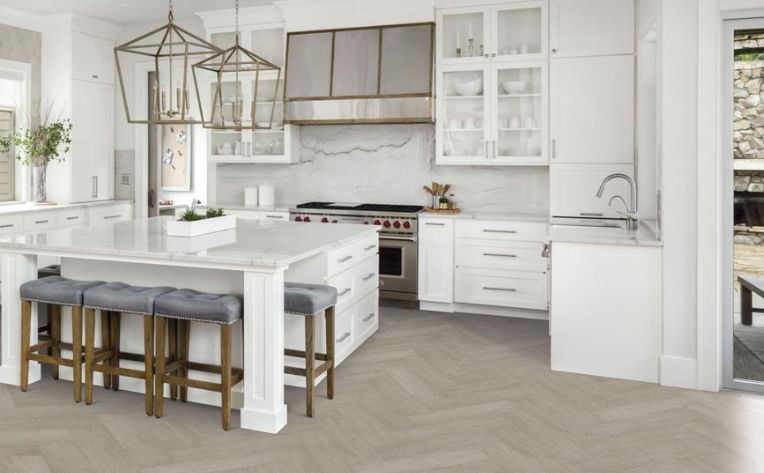 Another popular wood floor pattern that's taken the design world by storm is herringbone hardwood. Herringbone, which will continue to trend into 2023, is a geometric arrangement of rectangles named for a resemblance to the well-defined bone structure of the herring fish. Herringbone patterns in flooring are usually rectangles, but can also be parallelograms.
Parquet Flooring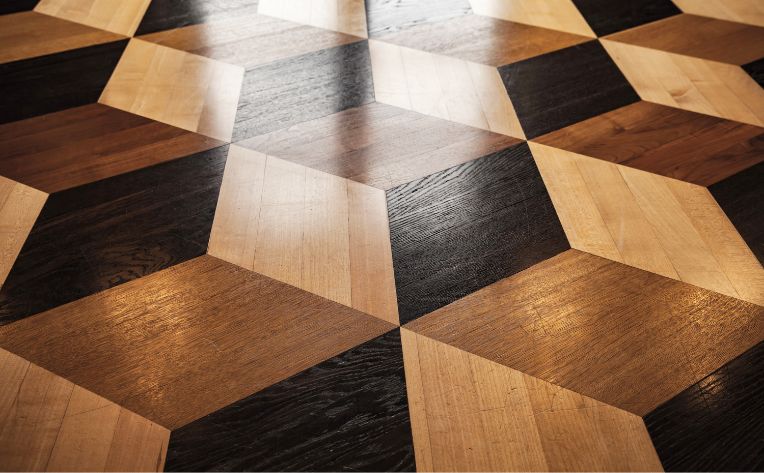 If you're looking for a more unique flooring pattern, parquet floors just might be the perfect match for you! Parquet floors are made of inlaid wood, arranged in a geometric pattern. Common patterns include various riffs on square motifs, though more unconventional takes, like sunbursts or medallions, are also possible. Because these are so customized, parquet floors can be trickier to install and it's recommended to use a trusted professional.
Diagonal Strip Pattern
An easy way to open up small rooms such as a loft or a home office is through diagonal strips of wood plank. Diagonally inlaid hardwood floors look gorgeous and fit with a number of design styles from mid-century modern to transitional. Just remember: diagonal patterns require more cutting.
Random Plank Flooring Patterns
Random plank flooring is when hardwood floors come in a variety of plank widths instead of one standard width. Mixed-width wood floor patterns will continue to be very popular in 2023 as they allow more customization and unique flooring patterns.
If you're love the herringbone wood-look style but need a more waterproof, pet-friendly flooring option, check out our extensive catalog of vinyl flooring patterns.
Tile Floors
Hardwood and wood-look floors aren't the only option when it comes to incorporating floor patterns into your home design. In fact, tile floors have been around for thousands of years and for good reason —they're low-maintenance, gorgeous in design and a lifelong investment. Check out the following floor tile patterns to find the perfect tiles to fit your design.
Square Tiles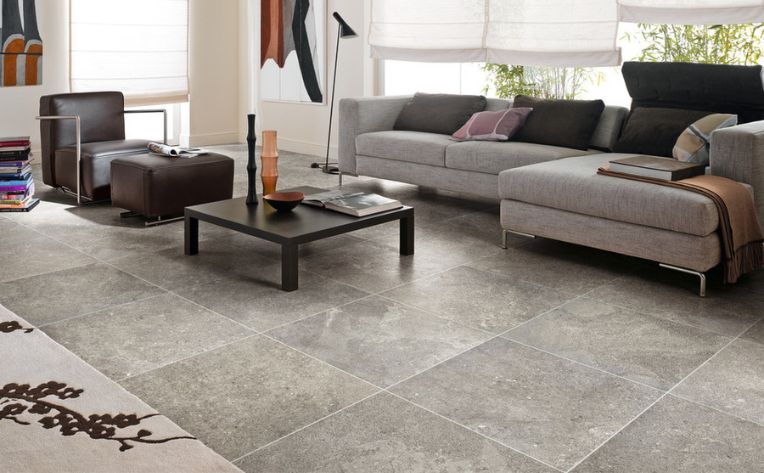 Valor Res Tile by Daltile
A timeless classic, square tiles are often a go-to choice for large areas like the kitchen or foyer. Whether you're looking at large format square tiles in a slate gray or a colorful checkerboard floor pattern, square tiles are a great way to add sleek lines and dimension through patterning in a space.
Mosaic Tiles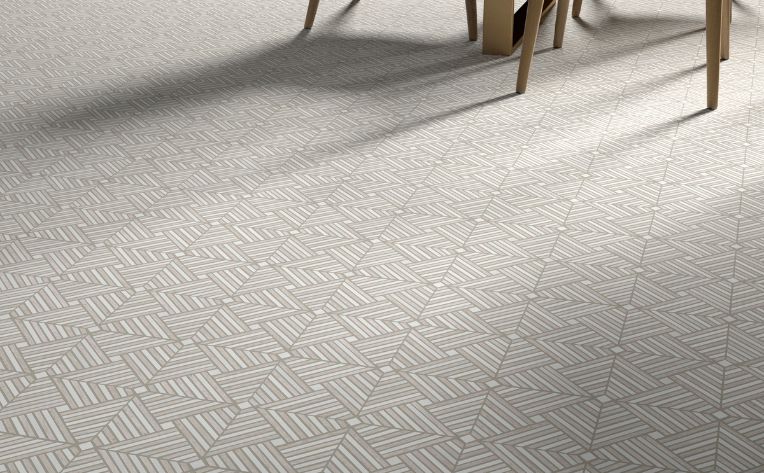 Alluro Cream Mini Palace Polished Mosaic by Emser Tile
If you're looking for a simple way to add visual interest to your room, check out mosaic tiling. Offered an a wide array of colors, patterns and shapes, mosaic tiles are small tiles or bits of tile that are used to form unique designs —plus they're customizable so you can create a one-of-a-kind pattern!
Accent Tiles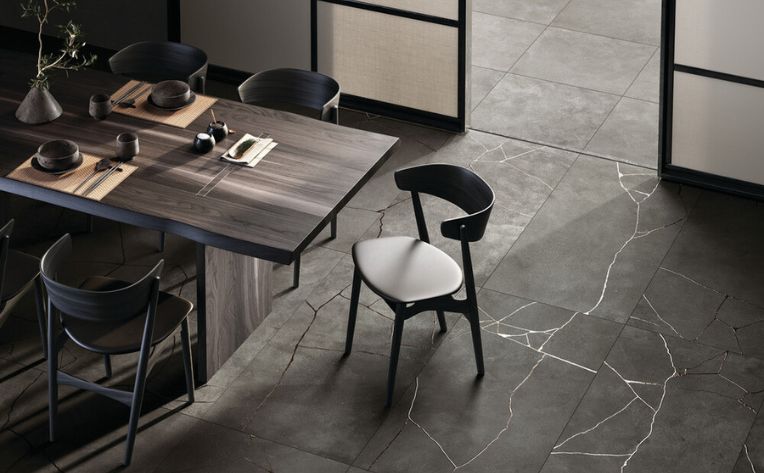 Kintsugi by Daltile
Accent tiles are an easy way to spice up your bathroom or kitchens through statement walls and backsplash. By using simple patterns or a smaller space for your accent tiles, you can update a room without overpowering the overall design with vibrant colors or busy patterns.
Brick Patterns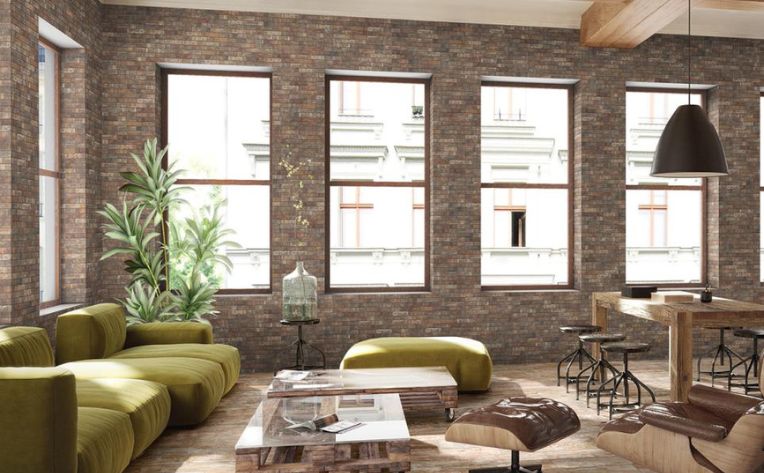 While the first thing that often comes to mind when you think "brick tile" might be "fireplace" brick patterns are so much more! Because there are endless ways to install brick tiles, this is an easy way to customize floor and wall space. In a traditional brick pattern, each row of tiles is usually offset by half a tile width. From stacked horizontal to running bond to chevron, brick tiling can be used to create sweeping, horizontal lines that softly extend a space. Plus brick patterns come in so many colors so you can find an ideal match for your design style.
Learn more about the top 2023 flooring trends on our blog and explore the latest in design inspiration with our Design at Home magazine!
Continue Reading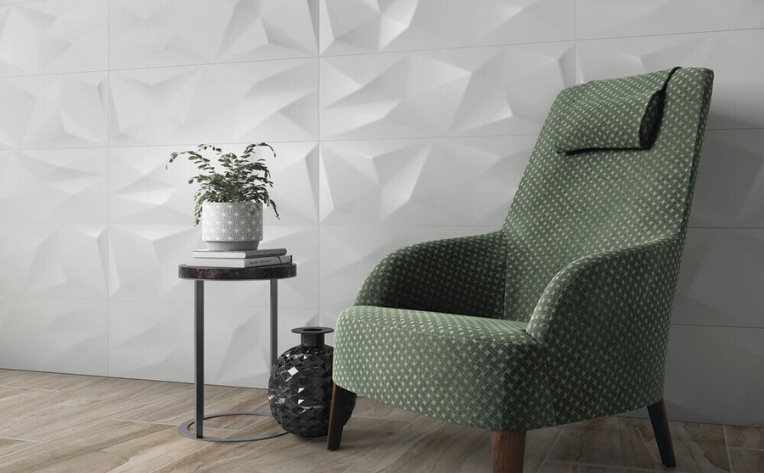 Feb 15, 2023
Creating Seamless Flooring Transitions Between Rooms
When it comes to choosing the perfect flooring for your home, finding a one-size-fits-all solution can be a challenge. Therefore, in many homes, you'll find varying flooring solutions as you move from room to room.
Each space has unique needs. Bathrooms, kitchens, and laundry rooms typically need waterproof and durable flooring, such as tile or laminate flooring. But for other spaces, like your bedroom or living room, you might be in search of warmth and comfort, so a carpet or warm-toned hardwood flooring are likely contenders.
With so many different elements at play, it often makes sense to choose multiple flooring options to fit the needs of each space. When this is done well, it creates a seamless design while still allowing for separate spaces. When done incorrectly, however, the change in flooring can feel abruptly jarring and, in some cases, can cause a tripping hazard at the threshold.
So how do you design a seamless flooring transition? With so many flooring options and factors to consider, it can feel like a daunting task. However, seamless room transitions are easy to create when you follow simple guidelines for choosing the best floors for your space.
Choosing Your Floors
The first thing you need to do is identify your primary flooring. If you're starting from scratch or conducting major home renovations that aren't limited to just one room, your primary flooring is simply going to be your first choice—whether that be hardwood flooring, laminate, tiles, vinyl, or carpet.
If you are going to renovate one room only, your primary flooring will be the floor you are not changing, which borders the room you are changing. Identifying your primary flooring choice is essential as you create a seamless room transition because you'll base your secondary floor on your primary floor.
Your secondary floor may be the more difficult choice of the two. With your primary flooring, you have only to consider the needs of the space and your personal taste, but you must weigh your secondary flooring as an option not only for the designated space but in relation to the primary flooring. So, what questions should you ask yourself as you design your interesting transition?
What are the needs of my space?
To narrow down your choices, you should first consider the purpose of the space. What you plan to do in a room plays a huge role in determining the right kind of flooring. Is it a living room that doubles as an at-home game room? You may want a floor such as a carpet or engineered hard surface floors that absorb sound for those lively game nights but is durable enough for a high-traffic area.
Will it be exposed to a lot of moisture? It may be beneficial to consider waterproof options, like laminate, vinyl, or tile floor. Do you want your bedroom to feel warm and cozy, but need a smooth surface for your corner home office? A warm-toned hardwood or wood-appearing laminate would be a great option to explore.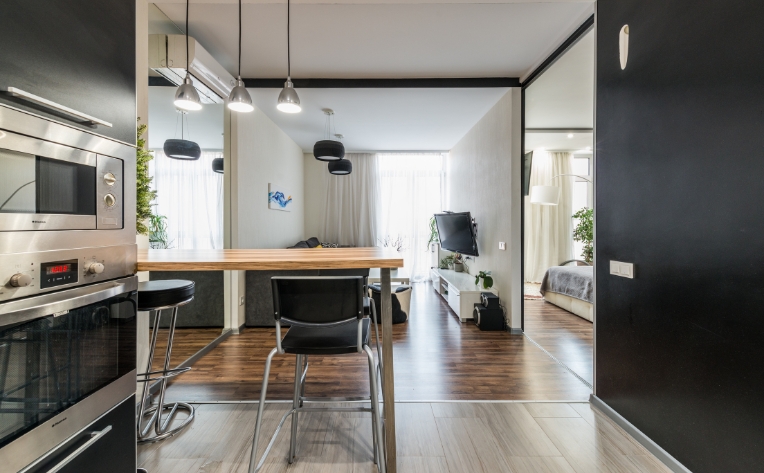 How do I choose a secondary floor?
As you determine your wants and needs for the space, narrow down your choices to whatever solutions fit best. Doing so will help you decide on a complementary secondary floor, like hardwood floors or engineered wood flooring. After determining the kind of flooring you want, you can consider other elements that are important for creating a seamless transition between two different floors and different zones.
What color flooring should I choose?
There are a few things to consider when selecting colors for your flooring transition. First, consider the color of your primary floor. If it's wood or has a wood-like appearance, what are the undertones? Is it a warm brown, or is it a cool grey? Is the flooring dark, light, or an in-between shade? Is it one solid color, composed of multiple colors, or shades of the same flooring color? These questions will help you determine what color your secondary flooring should be.
It's best to err on the side of complementary, but not identical. Oftentimes, when you try to make an exact color match you might create the impression that you tried to match but couldn't. It's a better practice to choose a color that's complimentary and has similar undertones to the original to avoid clashing colors and flooring materials for your transition piece.
For example, if your hallway floor is warm, medium-toned hardwood and you want carpet in the bedroom, you could go lighter in color with a warm beige or go in a different direction with darker, deep brown transition pieces. Similar but different is a good rule to follow as you create your room transition.

Do I want or need a transition strip?
Floor transition strips are a piece of flooring material that covers the edge between one space and the next. Specifically, a transition strip (t strip) has construction adhesive that connects works to transition one kind of floor to another.
Although a transition strip is often made of wood, they also come in a metal strip, aluminum strip, or vinyl strip. If you chose floors of the same material, like two different types of hardwood floors, it may be that you don't need a transition strip between the edge of the rooms.
However, if your floors are different materials, like carpet and laminate, you will need transition strips to account for varying floor heights in the rooms and to smoothly transfer from one of the flooring types to the next, such as hardwood flooring or engineered wood flooring.
There are three major types of transition strips for floors; which type of transition strip seam binder you choose will depend on the transition piece and the two floors you've chosen to bridge together with the transition strip.
T-Bar is a seam binder made of solid wood and is good for transitioning from hardwood floors to other floors in rooms with a hard surface and the same height, like another hardwood or ceramic tile floor. If you have two floors that are different heights, the next transition strip is recommended for those two floors.

Reducer Molding is a transition strip that is also often made of wood and is used to bridge the edge of two floors that are different heights such as laminate floors and carpet floors.

End Bar is a transition strip that is used in the installation process to bridge the gap between the edge of hardwood or laminate in rooms with another type of flooring, like carpet. Like the reduced molding, it is designed to bridge the gap between floors going in different directions of thickness and ones of the same thickness as well.

Go with your gut
Above all else, the best room transition is one made with two floors you love. Be sure to choose a flooring type that fits not only the needs of you and your space, but also suits your unique home design vision. While considering these helpful guidelines, know that if you go with your gut when transitioning floors, there are ways to fill in the gap and seamlessly transition any two floor options.
Continue Reading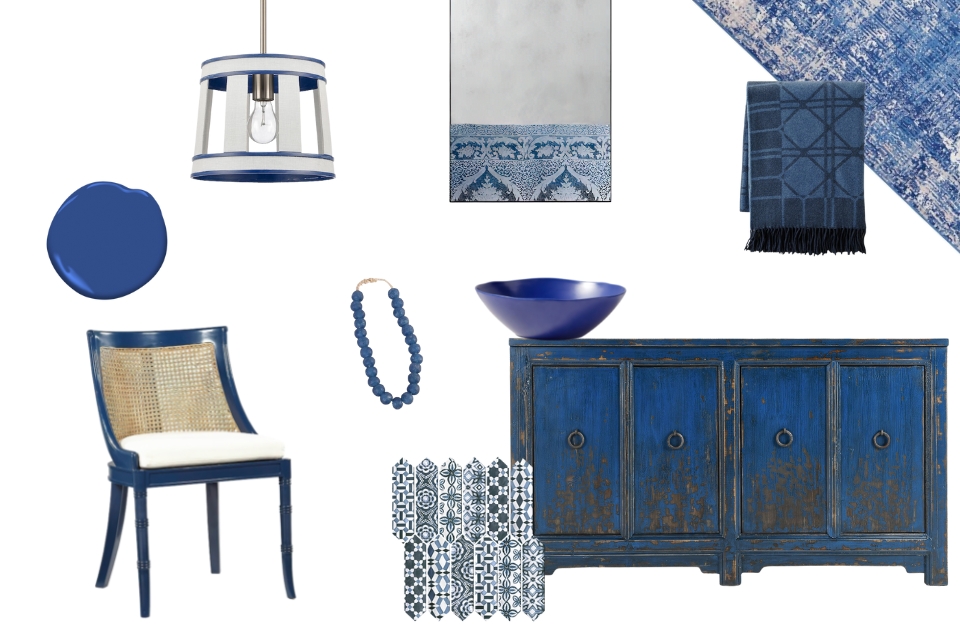 Jan 31, 2023
Benjamin Moore Delphinium CC-872, Nourison Whimsicle Ivory Navy Area Rug, CB2 Pebble Matte Cobalt Melamine Salad Bowl, Elk Home White Burlap 10" Wide 1-Light Pendant, Arhaus Kalinda Narrow Floor Mirror in Blue, Pottery Barn Ashworth 63" Buffet in Royal Blue, Scout & Nimble Vintage Sea Glass Beads Dark Blue, Kathy Kuo Home Aspyn Coastal White Upholstered Cane Back Blue Chair, Williams Sonoma Home European Novelty Jacquard Cashmere Throw, Daltile Cameo Blue Mix
It's official: True blue is one of the hottest colors of the year. From home décor to fashion, this vibrant hue has been popping up everywhere, and it's easy to see why. Whether you're looking to inject some energy into your wardrobe or add a touch of calming cool to your living space, true blue is the perfect choice.
The beauty of true blue lies in its versatility. Whether you're looking for a subtle background shade or a bold statement piece, this color has it all. Try pairing it with other vibrant colors for a bright and cheerful look, or tone it down with soft neutrals for a more calming effect.
Since true blue is such a versatile color, it's easy to incorporate into any style of decor. From modern to eclectic, it's the perfect way to introduce a pop of color without being too overwhelming. So, how do you incorporate this color into your home?
Add Blue Accent Pieces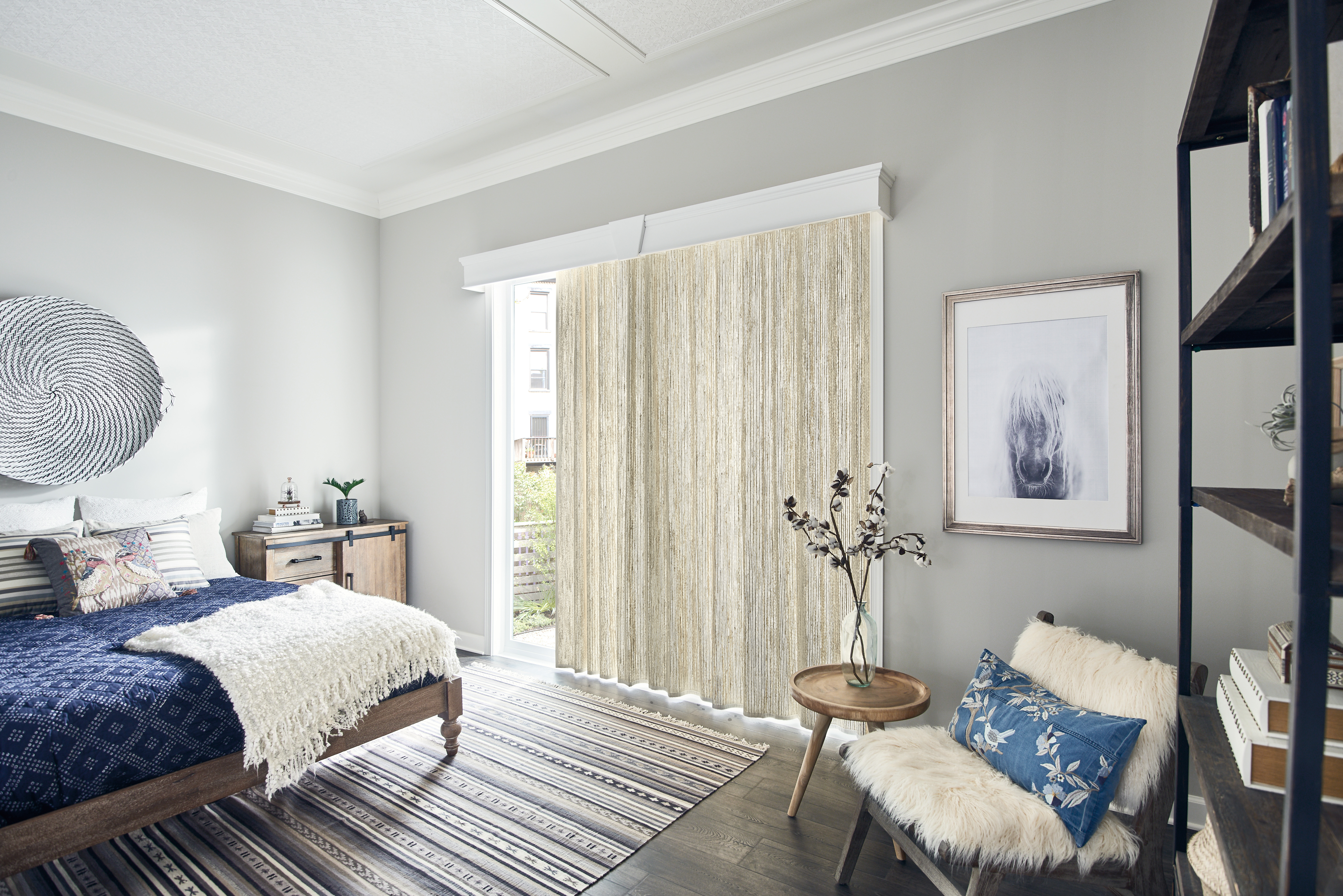 Graber Natural Drapes
One of the easiest ways to elevate any design scheme is by adding pops of color. In this case, incorporating true blue accent pieces can bring life to even the dullest of spaces. Incorporate different textures and materials in the process to make your decor really stand out among the rest. Decorate with throw pillows, throw blankets, or even blue-hued furniture to bring out the best of this classic color.
Use a Statement Rug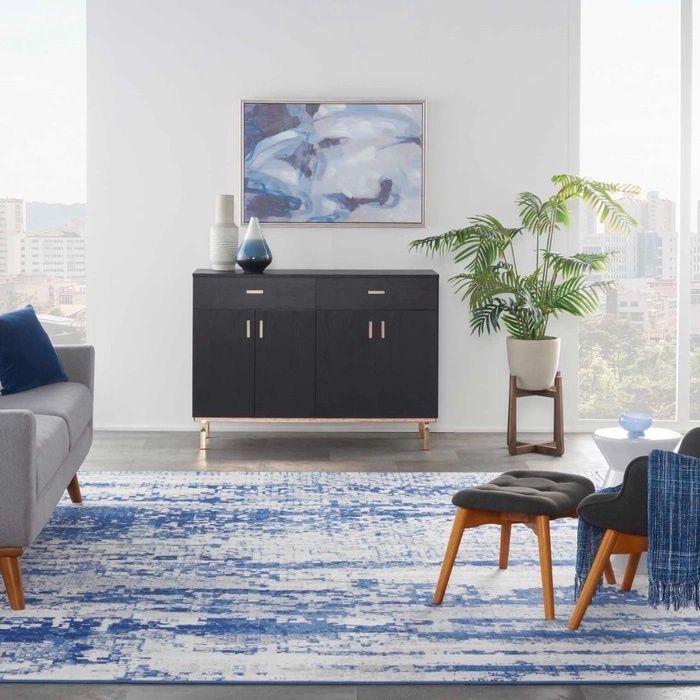 Nourison Whimsicle Ivory Navy Rug
Decorating with a statement rug is another simple way to tie in the true blue colorway. Whether you opt for a fun, geometric rug or a hand-knotted oriental rug, this statement piece is sure to elevate your interior design.
Paint with True Blue Hues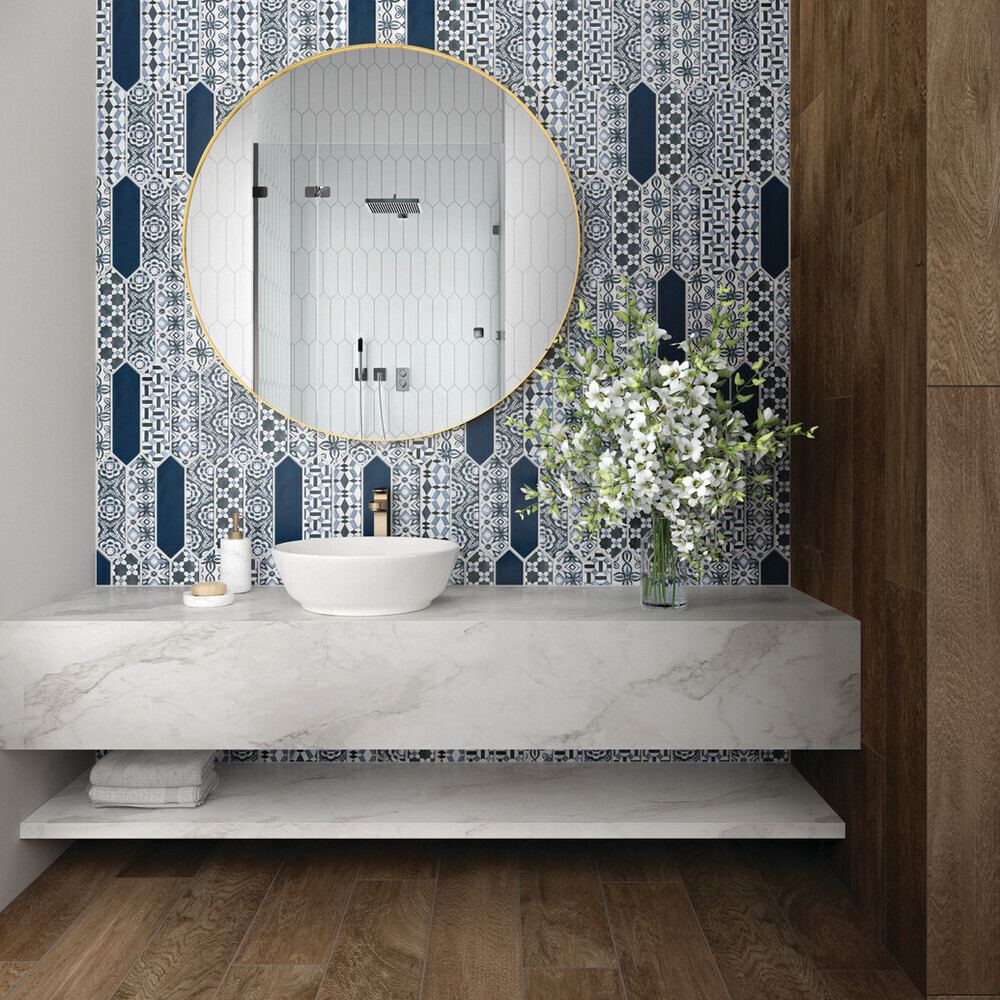 Daltile Cameo Blue Mix
An easy way to incorporate this trending color is by painting it on your walls. Douse your walls in an electric blue with wall tile or add a softer blue statement wall to your design scheme for a great way to make your decor pop. Feel free to incorporate fun wallpaper, textured tiles and backsplashes in true blue shades for a great way to mix it up.
If you choose to incorporate this stunning color into your design scheme, the flooring and design experts at Flooring America are here to help you with your next project. Check out our design blog to learn more about the latest trends in flooring and design!
Continue Reading