Floor Care and Cleaning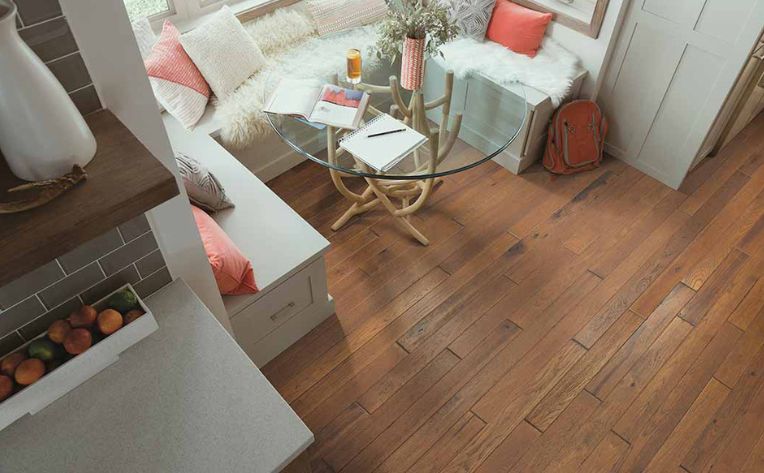 Sep 22, 2022
Year after year, hardwood flooring continues to be the most popular flooring option for homes. Although several flooring options mimic the classic look of hardwood, nothing beats the original, natural hardwood flooring.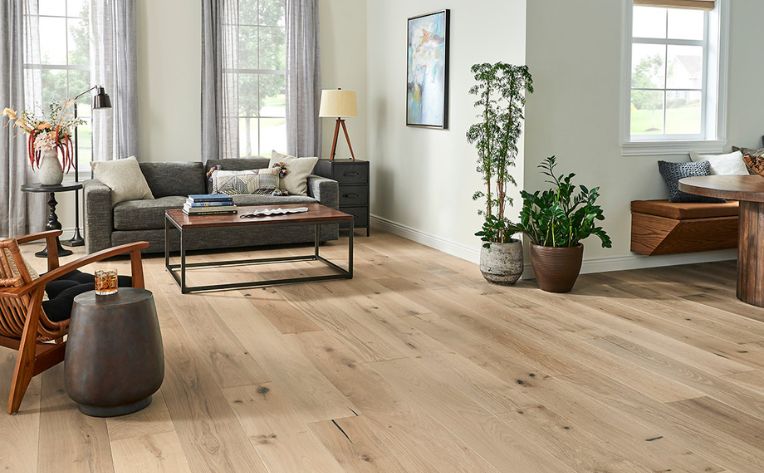 Here are the top three reasons to choose natural, solid hardwood flooring.
Durability. As long as it is properly maintained, hardwood can last a lifetime, even up to 100 years! And here is the good news: It is super easy to maintain. Simply sweep, vacuum, mop, and steam clean on a regular basis to maintain your natural hardwood's integrity. While solid hardwood floors can be a pricy selection when you initially purchase them, in the long run this option will save you money as the cleaning supply is not expensive and you can forgo the cost of repairs. Additionally, natural hardwood's colors won't fade over time –in fact, the patina gets better with age.
Valuable. For all the reasons mentioned above, natural hardwood floors can increase the value of your home. They are cleaner than carpets given that they are easily cleaned, and moreover, they are a hypoallergenic option and do not emit any potentially toxic fumes. Thus, hardwood's value goes beyond even just your own personal use.
Style. You have total creative control over hardwood floors, even years after you install them. You can add light or dark streaks, pick a pattern, and choose slabs that have knots. If after a few years you decide you want to switch the color, most flooring options require you to rip out and start from scratch but not hardwood. Depending on your floor's warranty, you can refinish your hardwood floors and update them based on your own personal taste. In addition, hardwood is extremely complementary to any kind of furniture and decor. It also can make your space look bigger than it actually is.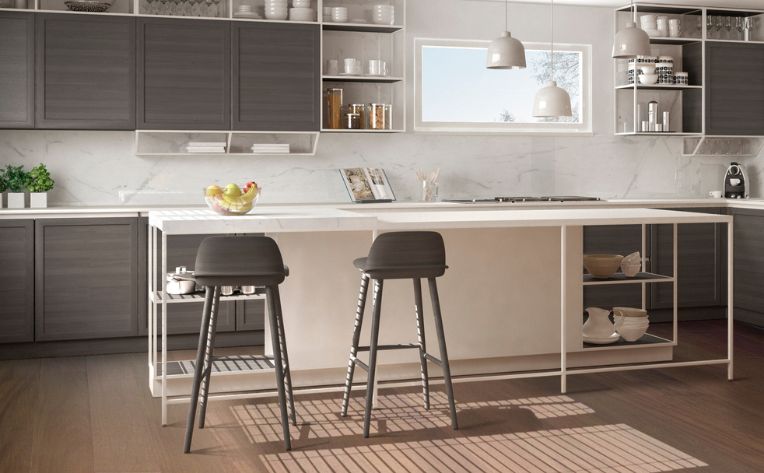 Now that you are sold on solid hardwood, here are some of the highest recommended natural, solid hardwood species options.
Oak. This historic hardwood flooring type has withstood the test of time both in durability and popularity. This strong species comes in two options (red and white oak), plus it's often the most affordable hardwood option.
Maple. With the lighter tone of wood, this hardwood works best in rustic homes.
Walnut. This is the easiest hardwood to clean due to its smooth nature and comes in two different types: American and Brazilian.
Bamboo. Technically, this is not a hardwood but rather, a grass that is compressed into planks. Because it's a grass and grows in abundance, this is a much more ecofriendly flooring option. This is a newer type of flooring and may not be as durable as the other options.
Pine. Due to its lower carbon footprint during production and transportation, this hardwood flooring is one of the more sustainable options. It's also known to get better with age as its color will change over time.
Cork. Ideal for rooms that need a sound dampener, this type of wood can be cut from a tree several times without harming it, making it a renewable resource.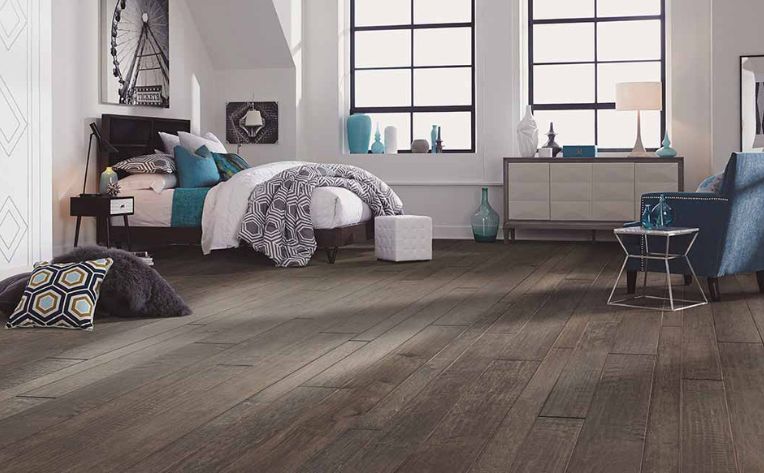 With a plethora of species to choose from and so many reasons to go with natural hardwood, you're guaranteed to find a floor that fits your flooring needs. Visit your local Flooring America to get connected with a qualified expert for more information and advice about natural hardwood flooring options.
Continue Reading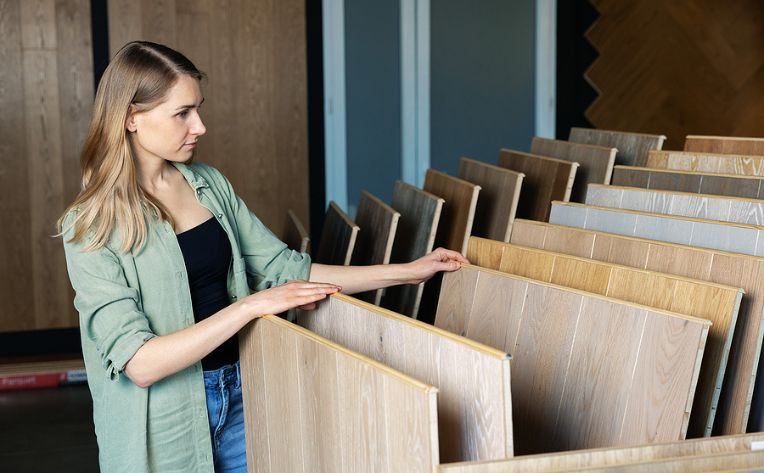 Aug 29, 2022
You know a great deal about a myriad of subjects such as the capitals of all 50 states, what year the Queen of England was born, the lyrics to "Oops!... I Did It Again," and how to make the best Bolognese sauce (your grandmother's recipe, of course.) But chances are (unless you live and breathe flooring like we do), this may be a niche that's not in your wheelhouse.
While googling your flooring questions is always a viable option, for the best advice, consult with our flooring experts. Not to toot our own horn, but Flooring America has an informative FAQ page that breaks down popular questions related to hardwood, carpet, laminate, luxury vinyl, tile flooring, and more. But what do you do when you don't know all the right questions to ask?
Below are 100+ questions to ask a flooring salesperson or a contractor broken down by product, as well as some general questions that are good to know.
Hardwood Flooring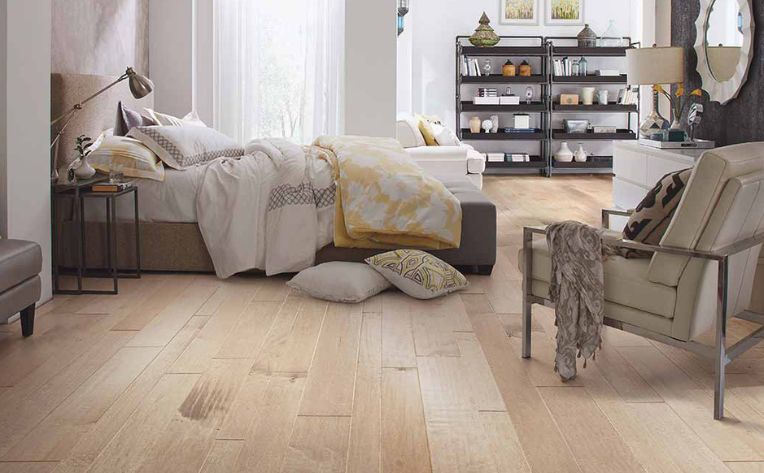 Is sanding hardwood floors a DIY project, or does it require an expert?
Is hardwood waterproof, water-resistant, or none of the above?
Can my hardwood be stained?
How long does staining hardwood take?
Does sunlight affect hardwood floors?
What does it mean to get a clear coat on hardwood floors?
How do you keep hardwood from fading?
What are the moisture levels in my space, and how will this affect my hardwood flooring in the future?
Do I need a subfloor, and if so, what kind? (Follow-up question: What's a subfloor?)
Which is better: factory finished or site finished?
Carpet Flooring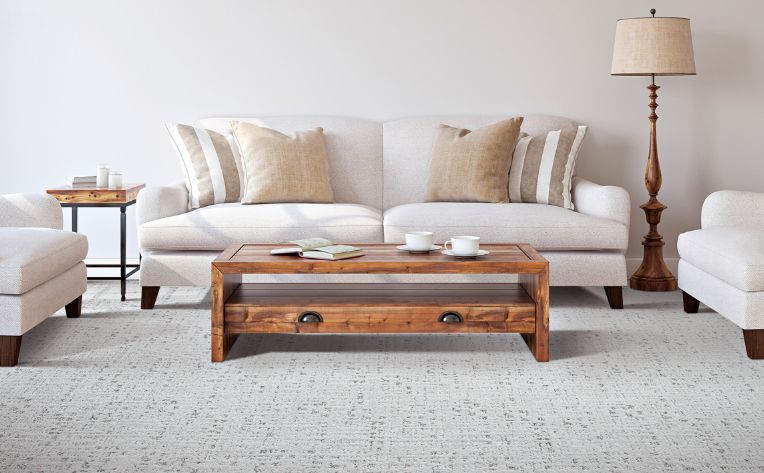 What kind of carpet is safe for individuals with allergies?
Can I get a sample of carpet so I can make sure it works with my space?
What is the difference between carpet squares and wall-to-wall carpeting?
Should I install carpeting in an area with high foot traffic?
What is a carpet pad, and do I need it?
Does the cost of carpeting change per square foot?
How does carpet change the acoustics of my space?
Should I budget for semi-frequent cleanings done by professionals?
What is an underlay, and do I need one?
How do I properly calculate the square footage of carpeting that I need?
Laminate Flooring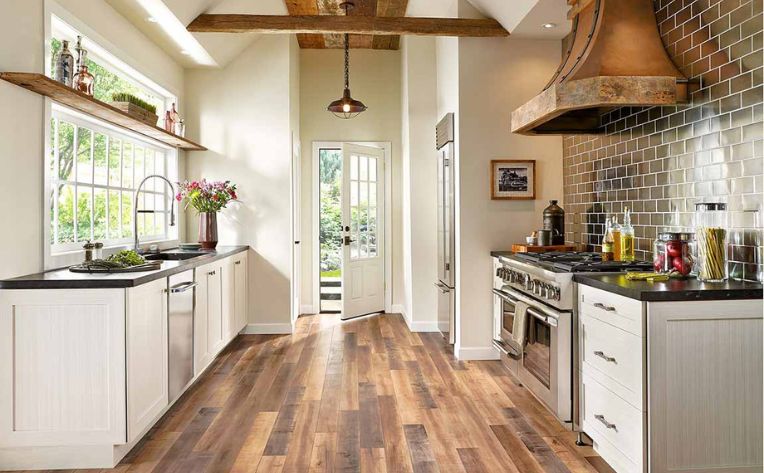 How do I prepare my subfloor for laminate flooring installation?
Why do I need to leave an expansion gap?
How long does laminate flooring last?
What does laminate peaking mean?
What does grain mean as it relates to laminate floors?
Can I add laminate flooring on my stairs?
How do I determine my starting wall?
Can I install laminate flooring by myself?
If just one of my planks gets damaged, can I replace it, or do I need to redo all of the flooring in that room?
If I currently have carpet flooring, can I install laminate flooring over it?
Tile Flooring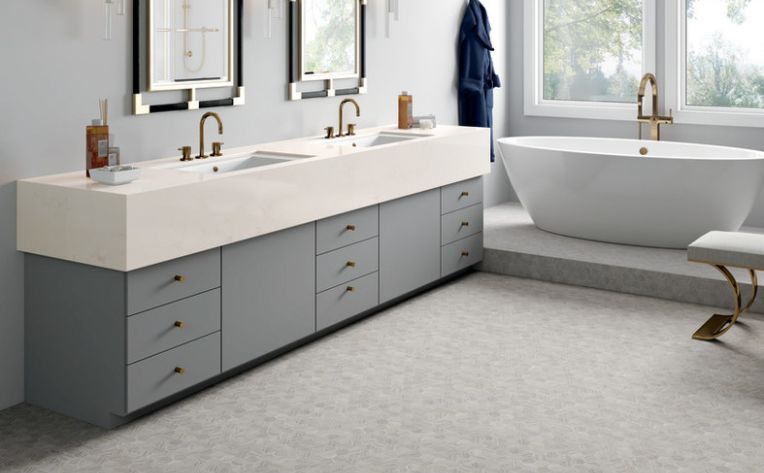 Can I purchase a tile backsplash from the same place I purchased my tile flooring?
What are the different design options for tile?
How does the size of the tile play into safety?
Is tile waterproof?
Why is tile considered to be the most hygienic flooring option?
How can I accurately estimate how much tile I need?
Can I put tile on my staircase?
Why do I need to hire someone to install tile?
Should I seal my tile?
How do I know when it is time to regrout?
Luxury Vinyl Flooring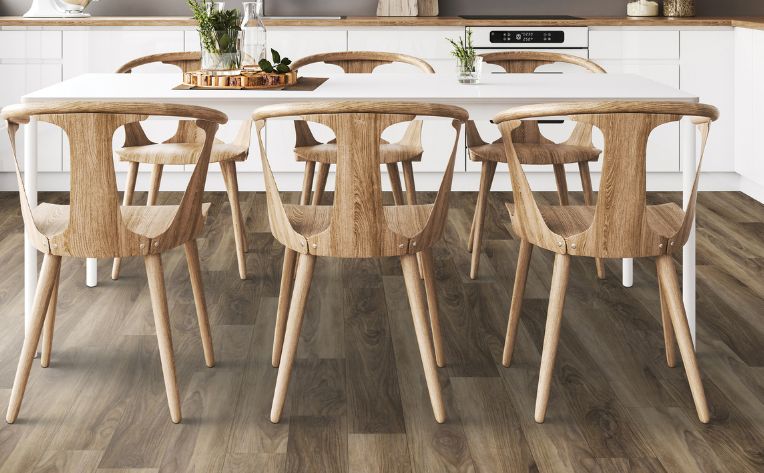 I am building or renovating my home and will need new floors. How far along in the construction process should I be before installing luxury vinyl floors?
Is luxury vinyl flooring scratch-resistant?
How long does luxury vinyl flooring take to install?
How thick is luxury vinyl?
How does luxury vinyl flooring compare to laminate flooring?
What sizes does each plank come in?
Why should I have underlayment?
What is floating luxury vinyl flooring?
What is glue-down luxury vinyl flooring?
Is luxury vinyl waterproof?
General Flooring Questions
If unforeseen issues arise with the floors during or after they are installed, how should I handle them?
Should I order more flooring than the size of the space in which I am installing it?
What's the best flooring for my home with young children?
What is the top brand for hardwood/carpet/laminate/tile/luxury vinyl flooring?
What room is hardwood/carpet/laminate/tile/luxury vinyl flooring ideal for?
Are you licensed and insured?
After installing the floors, how will the leftover scraps and other waste be cleaned up?
What type of flooring is best for residential spaces? What about commercial spaces?
Will this installation project affect my neighbors?
How much experience do you have? Can you share examples of your work?
Phew! Hopefully, you found the question you were looking for. Needless to say, you should pepper our flooring experts with as many questions as you can think of to ensure that you know exactly what you are getting into when you purchase and install hardwood, carpet, laminate, tile, or luxury vinyl flooring. Ready to start your next flooring project? Find your local Flooring America to get connected with an expert today.
Continue Reading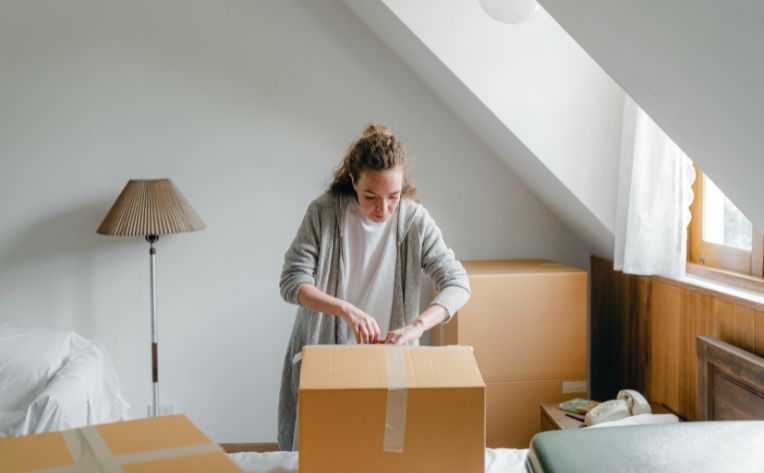 Jul 27, 2022
It's just a fact. The longer you live in your home, the more things you accumulate and the less available space to store all your new goodies. Whether you need more storage, an extra bedroom, or a room dedicated to your limited-edition Star Wars action figures, you should consider looking upward.
Think about it—instead of going through the hassle of expanding your home, you can renovate your attic space to fit your needs. Of course, renovating is no walk in the park. Whether you are looking to convert your attic to a storage area or if you want a finished attic, it's likely the hardest part of converting it will be putting new floors in. Before picking the best floor, here are some things you'll want to take into account:
Check to see if your attic is up to code
Before you begin, you should confirm with your city, town, or homeowners association (HOA) that you are allowed to convert that space. There are not typically regulations against renovating your attic for additional storage. Where you may run into issues is converting your attic space into additional living space. Keep in mind that if you do receive permission to move forward with your remodeling plans, your attic can be subject to inspections by building officials in the future.
Check the floor space and head space
It probably goes without saying that whatever you store in your attic, it needs to be able to fit. First, think about how you'll use the space—storing boxes of holiday decorations or setting up your treadmill? Moving in a full bedroom set or just stashing a tent until camping season? Not only do you need to think about your floor space, but you will also need to think about the amount of head space you have. After all, you don't want any of your belongings or—more importantly—your head to be bumping against the ceiling.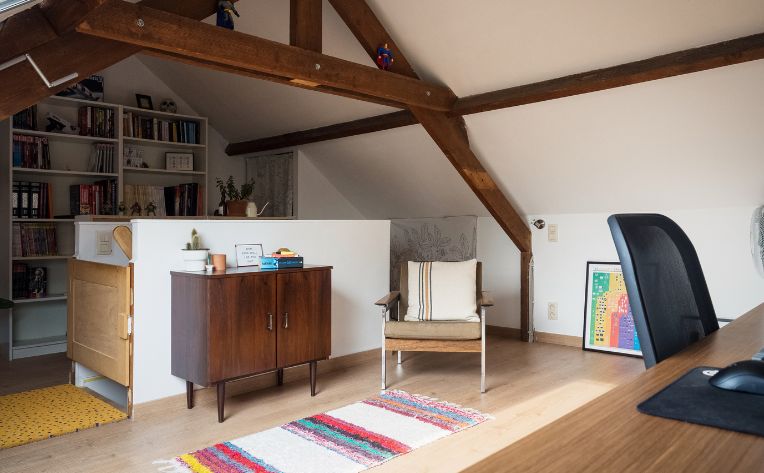 Check your attic's joists and weight limit
Before starting your journey of transforming your attic, you also need to consider how large your joists are. Joists in attics are typically used to carry the weight of the ceiling in the rooms below it, as well as any utilities such as AC and fans. Some homes (specifically older homes from the 1960s) have small joists that are between 2x6 and 2x8. Unfortunately, if your home has 2x6 or 2x8 joists, it will not have enough strength to support flooring or the weight of what you are looking to move into the attic. However, this does not mean your dreams of refinishing your attic have to come to a complete halt!
Invite an expert to your house to verify that your attic can withstand the weight of floors and whatever else you're planning to put up there. Additionally, if your joists are visible, you will need to build a subfloor. (More on that to come!)
Check your insulation and ventilation
Heat rises, so your renovated attic space may quickly become the hottest room in your home. Depending on where you live, you may be more than comfortable with that, but it will be important to have proper insulation and ventilation. Much of that can be done along with the flooring you choose, as well as the way in which you install it.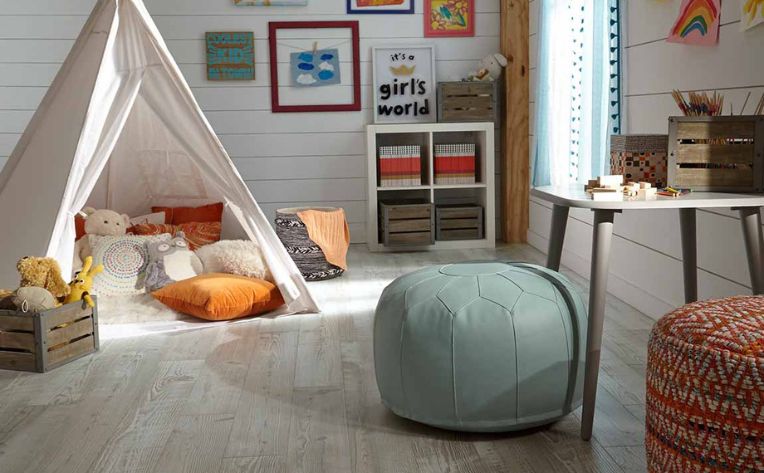 Now that we have gotten those considerations out of the way, let's talk flooring! The style of floor you should buy is dependent on not only your own personal taste but also your vision for how you'll use the space.
If you plan to use it solely as additional storage space, plywood is your best option. We recommend going with plywood at least 3/4 inch thick to make sure it is sturdy enough to support whatever is going up there. Plywood will also be used as a subfloor if you are planning to convert your attic into a living space, but for a more finished look, we recommend luxury vinyl, laminate, or carpet. Below are attributes of those three flooring options:
Luxury Vinyl

Durable
Sound-dampening
Back in style

Laminate

Durable
Sound-dampening
Affordable
Easy to clean and maintain
Water-resistant
Replicates the classic look of hardwood or tile

Carpet

Sound-dampening
Soft
Natural insulator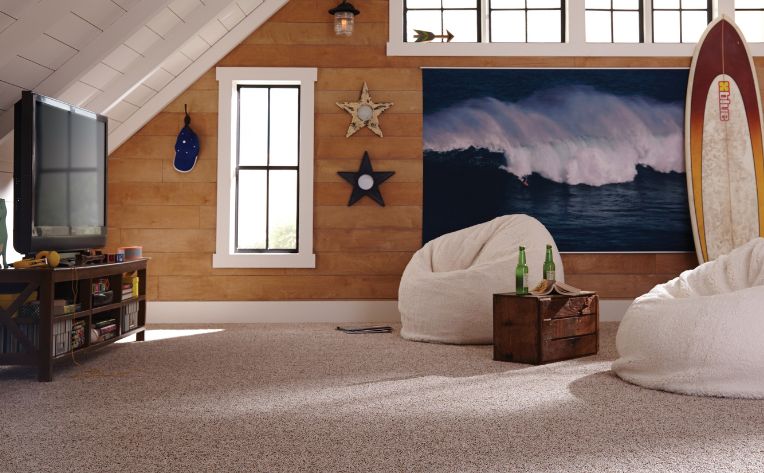 By utilizing experts, thoughtfully considering what kind of space you want in your newly renovated attic space, and thoroughly reading through this blog, you'll be able to confidently choose appropriate flooring to transform your attic. Additionally, here is a tool to help you visualize your future attic, as well as a planner to help you keep track of all the necessary steps. Find your local store to speak to an expert that can help you find the best flooring for your attic space.
Continue Reading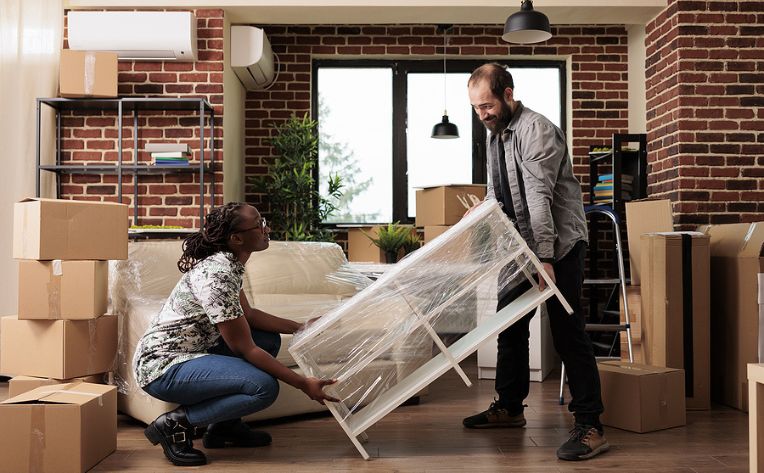 Jul 20, 2022
You love your new floors. After daydreaming of the floors that could be and bringing home flooring samples to see them in your space, you've finally installed your beautiful, new floors and made your room complete. But one question keeps floating around in your mind: How can I keep my floors looking brand-new forever?
Fear not; our flooring experts are here to help! By shopping with Flooring America, you've already started setting yourself up for success because we specialize in beautiful, long-lasting, durable floors. Next, you can come up with a cleaning schedule that fits your routine. If you need some advice on how to get started, check out our other blog post, "Learn How Best to Protect Your Floors."
While regular cleanings are vital to maintaining your floors, there's more to it than just good old maintenance. Floor protectors are an important tool that'll save your floors from daily wear and tear. Here is a list of different floor protectors and what they are best used for.
1. Moving pads and carpet protectors
These are typically used when moving in or out of a home. Assuming that you plan to stay in your home long term, it's almost inevitable that you'll purchase new furniture or décor that could potentially damage your floors when moving it around. Avoid unnecessary marks by using moving pads when bringing new, heavier items into your home.
If you have carpet, you may be under the impression that you don't have anything to worry about when moving furniture, but that's not true. Get carpet protectors – plastic film that stands firm against any possible stains and rips. This will keep your furniture from getting caught on the carpet and creating drag marks or indents.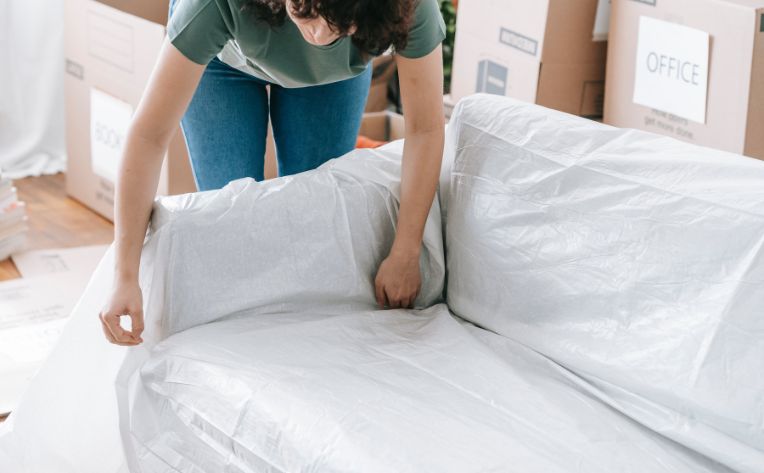 2. Furniture pads
Also known as chair leg floor protectors and furniture floor protectors, these come in a variety of shapes, sizes, and colors, making it easy to find ones that suit your chairs. Instead of putting down a sheet of plastic to limit the chance of scuffing up your floors, this type of floor protector is unobtrusive, made of felt that sticks to the bottom of your furniture, and is a savior for hardwood floors. Traditional felt furniture pads are best suited for coffee tables or dining room tables that aren't expected to move around much. They are usually sold in packs that run less than $20.
There is a non-slip plastic alternative to felt pads that are slightly more costly but perfect for furniture that is more prone to sliding. If you are struggling to choose between non-slip and regular furniture pads, think of the kind of furniture you are planning move. For example, for furniture like couches or chairs that are likely to shift from people plopping down on them, the non-slip plastic pads protect your floors better against these kinds of scratches.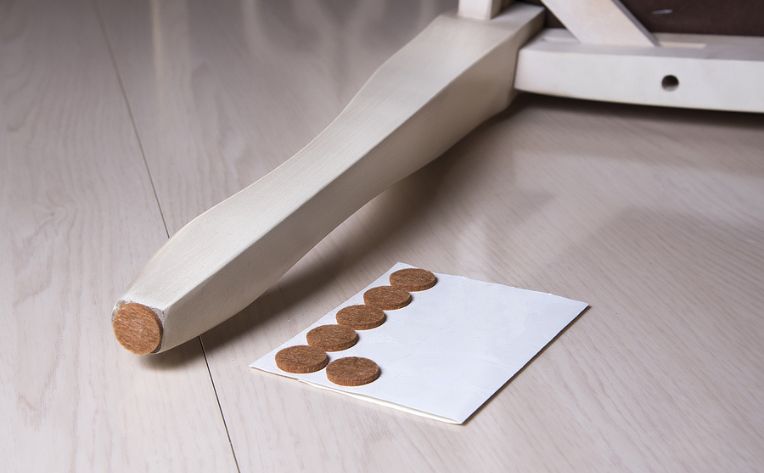 3. Plastic mat
This option is more or less self-explanatory. It is a thin sheet of plastic that removes any possibility of scratches. It is most frequently found in home offices, as the constant getting up and down from your chair or spinning around can create marks on your floors. You may also find plastic mats in entryways because of the high foot traffic in that area and dirt that's tracked in from outside. These plastic mats provide a simple solution to eliminate any possibility of scrapes and scratches in that area.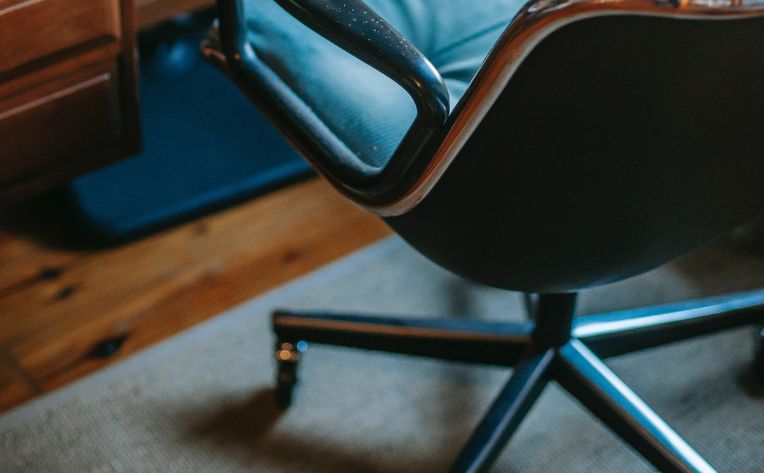 Don't just yearn for forever young floors; make that dream a reality by getting some floor protectors. Find your local Flooring America store to speak to an expert that can help you find the perfect floor protectors for your home. After all, we enjoy talking all things flooring!
Continue Reading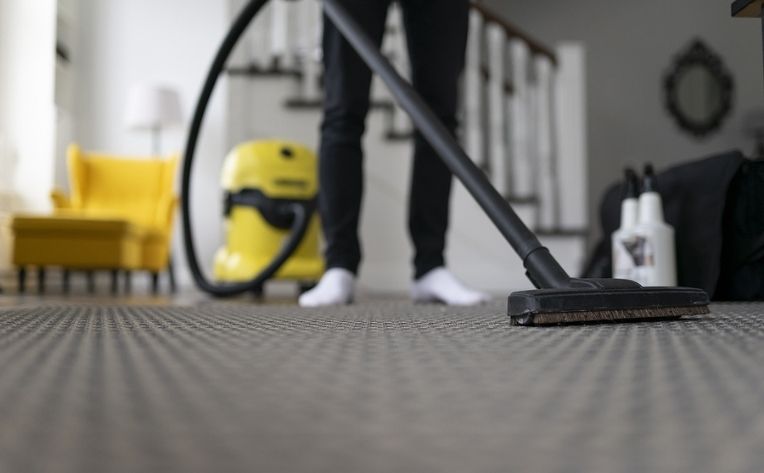 Jun 22, 2022
When you're looking to purchase something that will be a permanent fixture in your household for the next five to 15 years, such as a carpet, you'll probably want to consider all the factors. You might think about what pattern best complements the couch in the living room, how soft the pile is, what kind of warranty it comes with, and what your next-door neighbor has to say about the carpet she has in her bedroom. Don't let false rumors negatively influence your thoughts about installing carpets in your home. We've compiled and debunked the top five prevailing myths about carpet flooring.
Myth 1: Carpets are hard to clean
Let's face it—cleaning is never the most exciting thing to do. Just like couches, sheets, dishes, pools, front yards, and more, you have to put in the time, energy, and sometimes even money to keep a carpet in mint condition. However, unlike carpets of the past, modern carpet products are relatively easy to maintain—you will just need to vacuum weekly and do an annual deep clean. If you choose to get a different flooring option other than carpeting, your chores will entail sweeping and mopping regularly and budgeting for the inevitable costs of extra maintenance like waxing, polishing, buffing, and stripping, to name a few. No matter what flooring decision you make, you must put in a little elbow grease to take care of it. But if you're looking for something that is low-maintenance and already love the look, commit to carpets!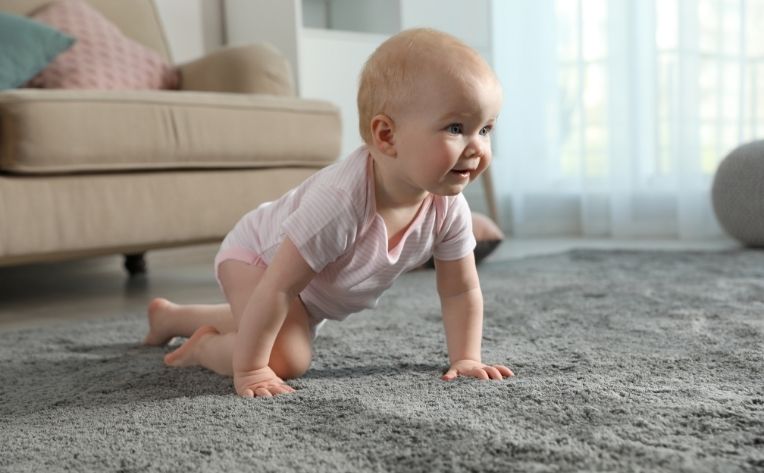 Myth 2: If I have asthma or allergies, I should not even look at carpets
People think carpets are worse for individuals with asthma or allergies, yet modern research has proven otherwise:
A recent study from Airmid Healthgroup reports that as long as homeowners clean carpets regularly, they do not threaten those affected by allergies or asthma.

Carpets can trap allergen-causing particles

and stop them from becoming airborne, so they're less likely to be inhaled.
So don't be swayed by this common misconception about carpets. Conduct your own research or consult with your doctor, but don't let unfounded fears impact your flooring decision.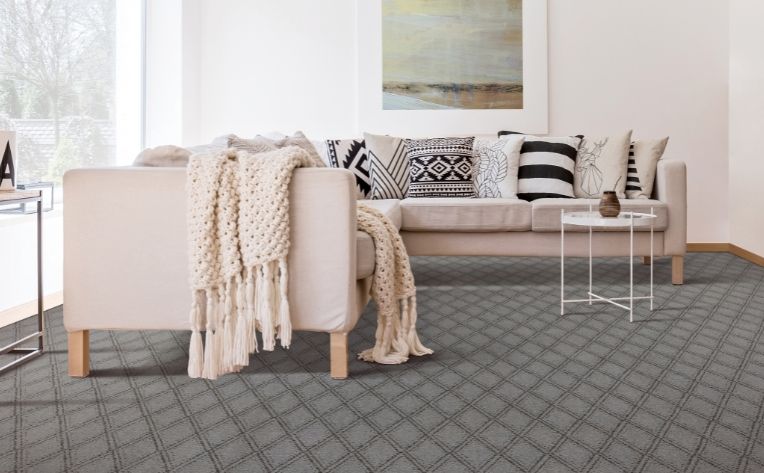 Myth 3: There's formaldehyde in carpets
This is an outdated truth; carpet manufacturers used very low chemical levels way back when but have not since 1987. Any carpet that you buy today will have zero traces of formaldehyde.
Myth 4: Carpets are not environmentally friendly
Across the entire carpet industry, there have been great strides in sustainability and being environmentally conscientious.
Our Green Select products fit into the strict criteria of being ecofriendly and reflect our commitment to being a part of the solution. Learn more about this here.

The Carpet and Rug Institute (CRI), which comprises over 90% of the industry's manufacturers, has kept over 5 billion pounds of carpet from ending up in landfills.

Carpet manufacturers have also decreased the amount of water and energy they use to create carpets and use recycled materials to help reach their goal of zero waste.

Additionally, you will not have to use as much heat during the winter due to carpet flooring's inherent insulating properties.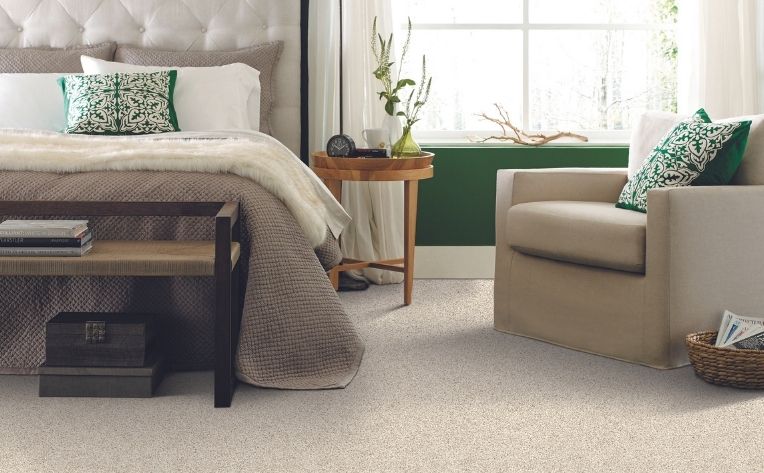 Myth 5: Installing carpet is inconvenient
Truth be told, installing any kind of flooring plan can be inconvenient if, and only if, you don't properly research and prepare for it. We have compiled resources such as:
Better yet, if anything does go wrong, we have a lifetime warranty on carpet installations, so installing your dream carpet will be a stress-free process.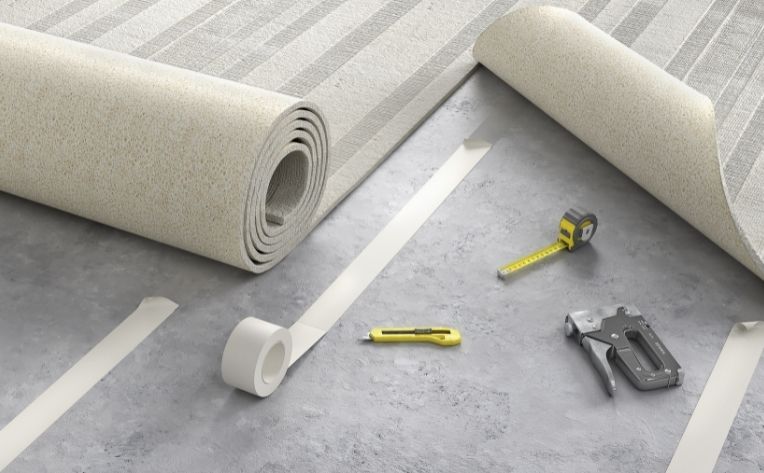 Now that we have disproven all those myths about carpets, let's focus on some truths. Carpet flooring can be a great fit for your home as it is the safest flooring option due to its soft nature, sound-deadening qualities, and non-slip surface. Interested in learning more? Contact one of our experts to find a carpet that fits your style and complements your flooring needs.
Continue Reading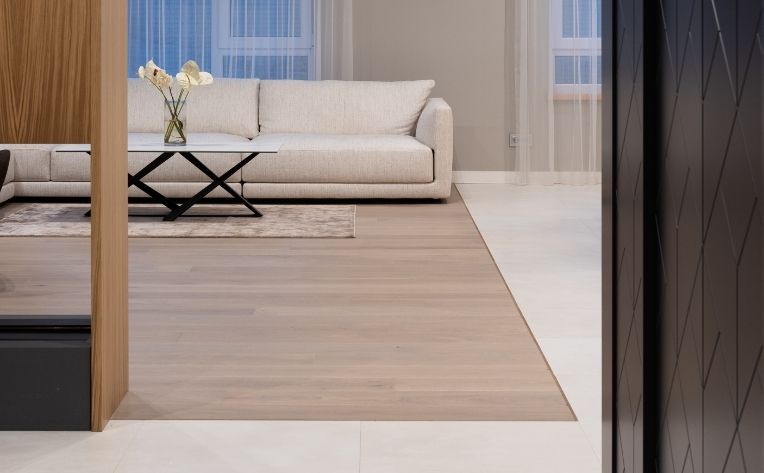 Apr 27, 2022
Floor transitions may not be the first thing you think of when planning a home renovation. Most likely, you're caught up in the vinyl vs. laminate debate or considering whether carpet is too risky for your messy household or trying to pick the perfect tile. We understand! But transitions between floors are an important component in any home to make sure all your floor design choices blend seamlessly from room to room.
Now, what do we mean by floor transitions? Think of a classic door threshold—that raised strip that you step on or over when entering a room. Without floor transitions, we would have frayed carpet edges running up against unfinished hardwood planks or tile grout. Thresholds—the object and the word itself—originated from medieval farmhouse floors, which were covered in straw and hay. That debris (thresh) would scatter when the wind came through the door, so they fastened planks across the bottom of the doorway to keep the thresh out—hence the "threshold" came into existence.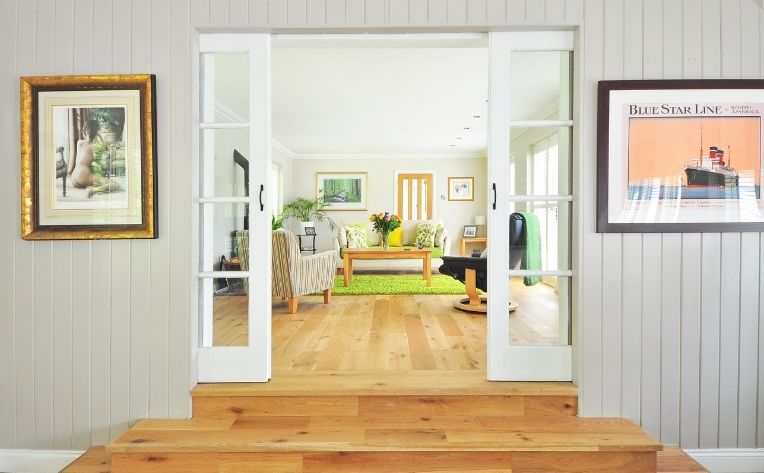 Now our floors may be a little cleaner than those of medieval farmhouses, but floor transitions are still important when shifting between different types of floors.
Gone are the simple days when every room in a house had the same type of floor. With options that match your needs in each and every room in your home, you're likely to have at least three different floor types, and each of those requires a transition.
The good news is that there are different types of floor transition strips that make it easy to have a safe switch between all types of flooring—no tripping hazards here.
Your first thought might be to choose the least noticeable floor transition so it doesn't distract from your beautiful floors, but there is a benefit to clearly marked floor transitions. While floor trims may trigger many toddler trips, for the more seasoned walker, an obvious floor transition helps us anticipate a change in flooring texture and elevation, keeping us from tripping.
Transitioning between Floors of Different Heights
When planning a carpet transition to tile (like from your living room to kitchen) you'll need a door transition with an aluminum strip that grips the carpet and accounts for the difference in height between the carpet and the tile. Floor transition strips can come in vinyl or hardwood –the latter of which can be stained to match the color of the adjoining floor.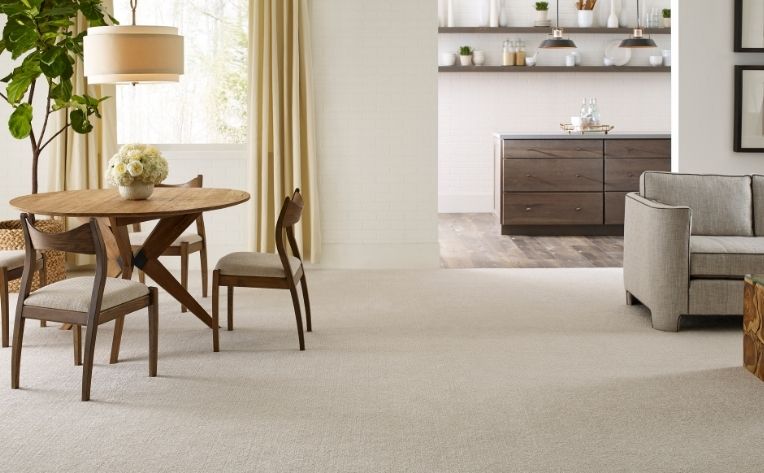 There are also transition strips designed to provide a seamless transition from laminate flooring to tile flooring. They feature molding that matches the different thicknesses of the flooring, so you can moonwalk from room to room with ease. Even a transition between uneven floors can be made smooth with the proper floor trim.
Transitioning between Floors of the Same Height
Open floor plans are all the rage these days, which means you might need a different transition between your floors than the traditional doorway threshold. Here are a few ways:
Perpendicular Planks: It usually just takes a perpendicular plank of wood or tile to make a transition that's easy on the eye, but when the floors are the same height, there are more unique design options to consider.
Accent Borders: A thin accent border can help ease the transition between two types of floors. This border can be made of the same materials as one of the floors, or you can add an accent by choosing bold or mosaic tiles.
Interlocking Floors: Another option is to make an interesting transition from tile to wood—or a wood lookalike—by cutting your wood floors to interlock with the edges of the tile. This works with square, diagonal, hexagonal, and even scalloped tile.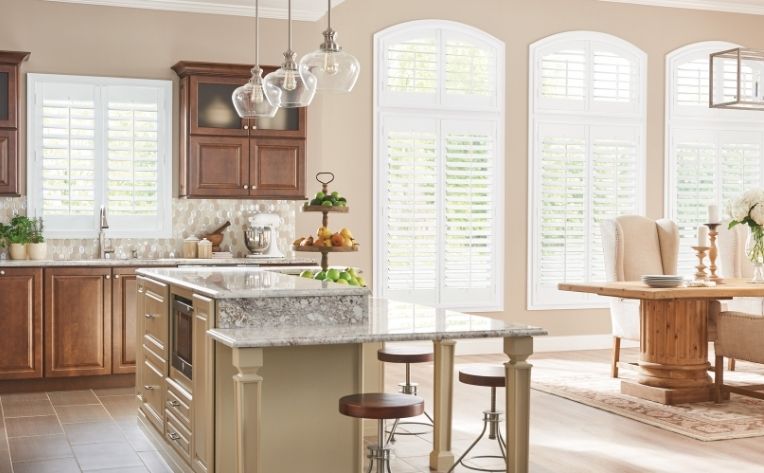 Wood Composite Shutters by Graber
No matter what floors you have, your local Flooring America experts are here to help you create a seamless transition between them. They're happy to help with all your projects big and small, so visit yours today.
Continue Reading