News and Technology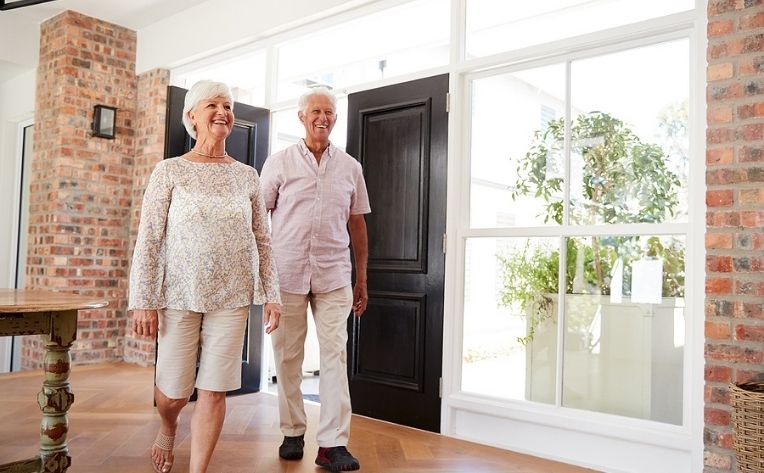 Jun 28, 2021
Whether you are an aging adult looking to choose safe and beautiful floors for your home, or you are helping your aging loved one find new flooring, there are a few factors to consider; safety chief among them. It is key to ensure that your new flooring choice is both slip- and trip-resistant. Of course, safety is important, but cleaning, comfort, cushion, and function should all be considered when shopping as these factors contribute to finding the perfect floor.
Floors Seniors Should Avoid
First, let's talk about the floors seniors should avoid. Falling is a real fear for many seniors, especially if they live alone and help is not readily available. Ensuring that the flooring inside seniors' homes minimizes the risk of falling is a priority.
Area rugs are a big no-no in spaces where seniors walk. Rugs often slide around, easily bunch up, and even the slightest height difference could be challenging for some individuals. Thus, area rugs can be a real tripping hazard, which, of course, should be avoided.
Natural stone is another material that should be avoided. It is very hard and requires regular maintenance, which makes it unforgiving. In addition, polished stone floor is slippery when wet and can be cold under bare feet. Ceramic and porcelain tile should also be avoided for the same reasons. Although this material requires very little maintenance, wide grout joints or uneven tiles can create a tripping risk.

Rubber Flooring Is Number One
Rubber flooring is a wonderful option for seniors because it is slip-resistant even when it is wet, making it the safest choice. Another great benefit is its absorbency. If someone were to fall on rubber flooring, it would most likely be less painful than hard surfaces. The cushioning and installation that rubber flooring offers also make it a warmer surface, which helps keep seniors more comfortable. In addition to all the great benefits that rubber flooring gives seniors, it also comes in a variety of color options, and it's easy to maintain, making it not only a functional but aesthetically pleasing flooring solution.

Cork Flooring Is the Runner-Up
Another great option for seniors is cork flooring because it is soft, shock-absorbent, and provides traction, making it slip-resistant. Much like rubber flooring, it not only helps prevent falls but in the event of one, it cushions to reduce the chance of injury. Many cork floors are often finished with sealants, which will make it easy for seniors to wipe down and maintain.
It is important to note that cork does not last over time and should not be placed in high-moisture areas, as it is prone to cracks, fading, and dents.

Vinyl Flooring Can Be Valuable for Seniors
When it comes to vinyl flooring, there are a lot of great benefits. It's easy to maintain, waterproof, and easy to walk on without slipping. Compared to cork and rubber, vinyl is a harder flooring surface, making it less forgiving when it comes to falls. Modern vinyl is called luxury vinyl flooring (LVF) and comes in a variety of attractive styles, which means you don't have to sacrifice beauty for function. This affordable flooring is an excellent option for seniors.
Carpet Shouldn't Be Counted Out
Despite being more difficult for individuals in wheelchairs to maneuver on, carpet is still a great option for seniors. When installed correctly, wall-to-wall carpeting is smooth, soft, and comfortable. Carpet is especially ideal in colder regions because it provides warmth underfoot and a cozy feel. Plus, it is very cushiony and forgiving in case of a fall. Carpet is often overlooked as it can be tough to clean and may trap unwanted dust and debris, which can be challenging for seniors with allergies or breathing problems. Hypoallergenic carpets, however, are an ideal option for people with allergies as they better filter out pollen and dust.

Consult the Experts on Senior-Safe Flooring
If you need help figuring out what flooring types are senior-safe while also fitting your budget and style, the Flooring America experts are here to help. Give them a call, or stop by your local Flooring America store today.
Continue Reading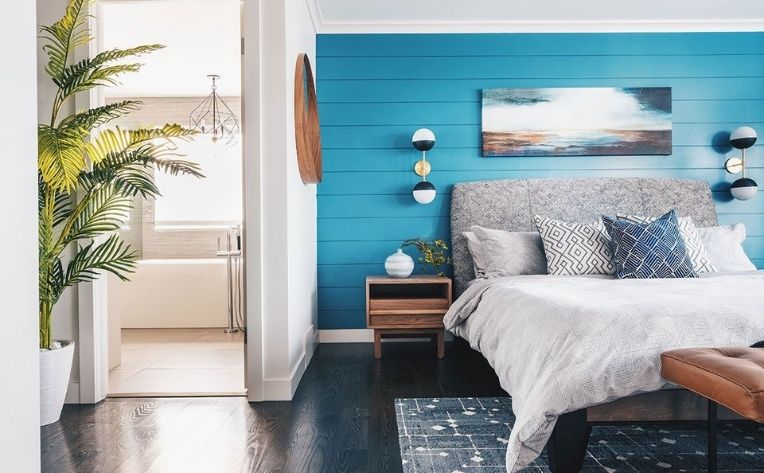 Jun 14, 2021
As we enter the brightest of seasons, infuse your home with color using the interior design tips and inspiration provided in the pages of our 2021 Summer Issue of Design at Home. Within these pages, you get the inside scoop on trending styles, colors, and decor, from exclusive designer interviews to tips on styling your outdoor spaces to behind the design of a lovely lake home. Whether you're hoping to saturate your areas with sunny, rich hues or looking to stick to a natural muted palette, we have the design insight you need to get started. Here's a sneak peek at the brilliant articles that are awaiting you inside this issue of Design at Home:
7 Quick Tips for Outdoor Design
Dive into the best design ideas to create your outdoor oasis in a simple seven-step article. Chock full of tips and advice to make the most of your outdoor space, we detail how to add focal points, use lighting to direct your mood, and bring a fresh feel to your outdoor patio.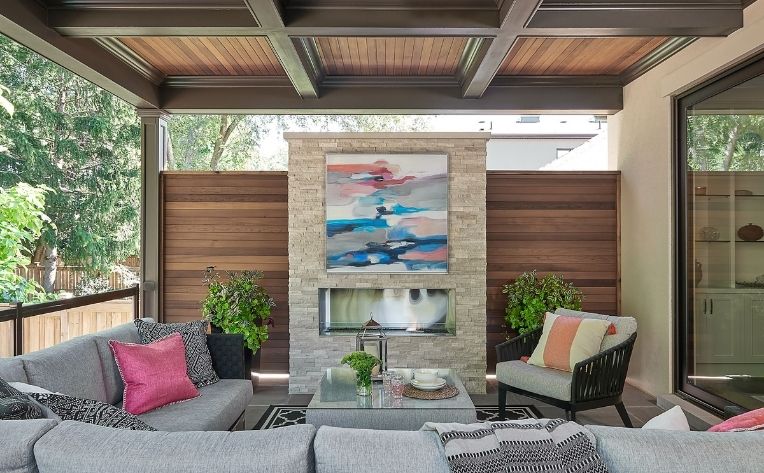 Design by Kate Davidson, Photography by Stephani Buchman
Interior Inspiration: Calling All Colors
In this eight-page spread, we gathered our favorite trending colors of the season and show you how you can incorporate them into your home design. Color can be tricky business, which is why we showcase gorgeous room scenes that use simple, low-commitment color solutions to refresh their space.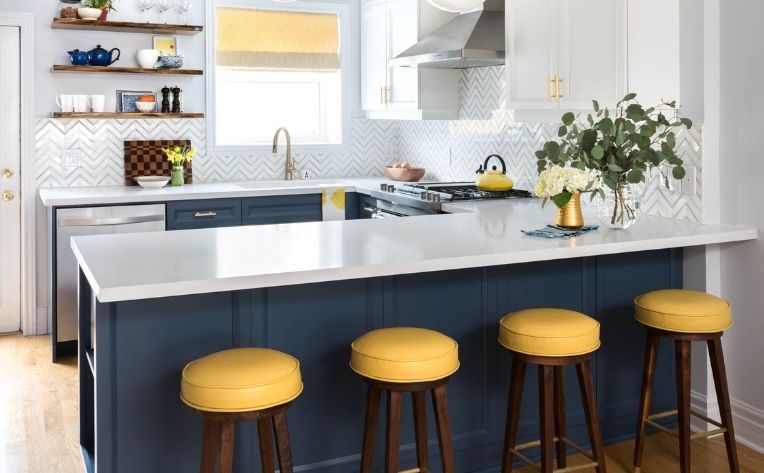 Design by Rebecca Hay, Photography by Stephani Buchman
Styles We Love: Infusing Summer into Your Design
Three styles have stolen our hearts this summer: Modern Mediterranean, Cozy Cottagecore, and Outdoor Oasis. With new flooring, décor, furniture, and lighting, you can effortlessly incorporate these beautifully natural designs into your home. Check out some of our best pieces from each collection and put together a look you'll adore, whether you go all-in on one of our exclusive styles or mix and match a few elements.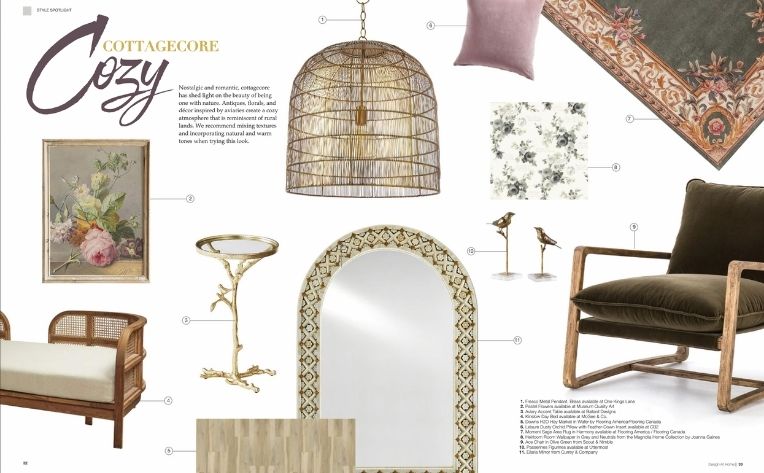 Striking the Perfect Balance: Trendy Tile Colors Paired with Neutrals
As the strongest, most durable hard surface solution out there, tile is a popular choice for many homeowners. We'll explain how you can blend tile colors with the existing natural neutral tones of your home, giving you the best balance of color and tranquil ambiance that's necessary to design a refreshing summer home.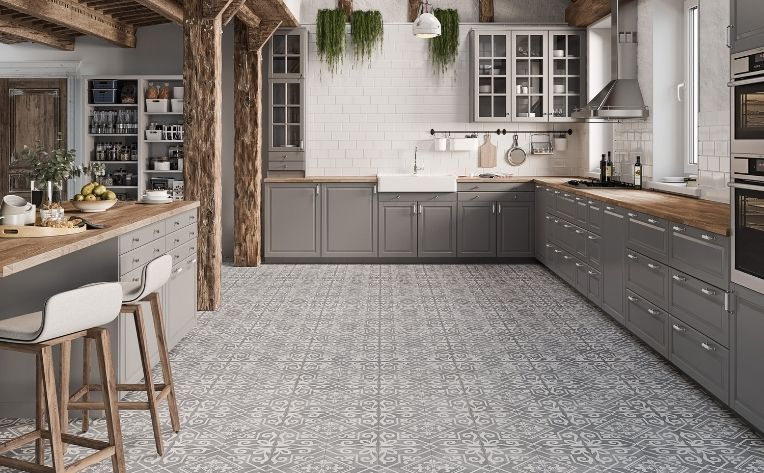 Nostalgia in Saga by Emser Tile
Reset, Refresh with a Splash of Color
In this area rug feature, we discuss the benefits of adding an area rug to your space and make suggestions on the best colors for styling. This summer, we're obsessed with blues, golds, bright botanical elements, and elegant stone-inspired hues. Learn how to style your area rugs and delve into our top products from trusted brands at Flooring America.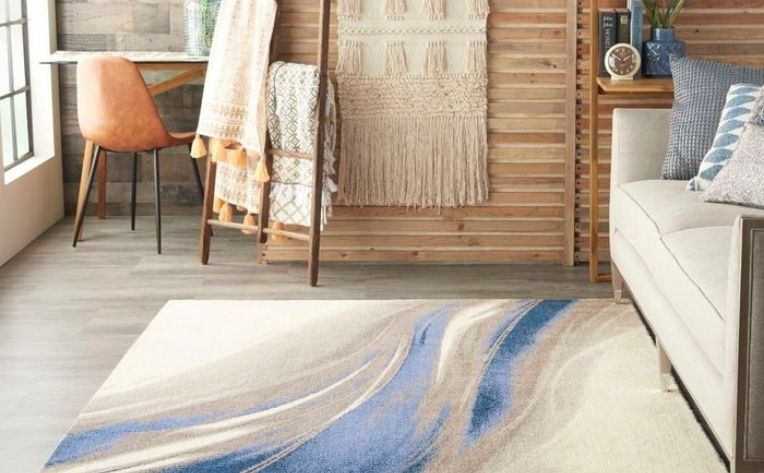 Twilight Collection in Ivory Grey Blue by Nourison
Designer Q&A: Urban to Suburban with Korina Khamas and Eugenia Triandos of Hibou Design & Co.
Explore a stunning transformation in this Q&A with Hibou Design. Eugenia and Korina walk us through their approach to a home renovation and talk about drawing on inspiration from natural elements to create a unified design.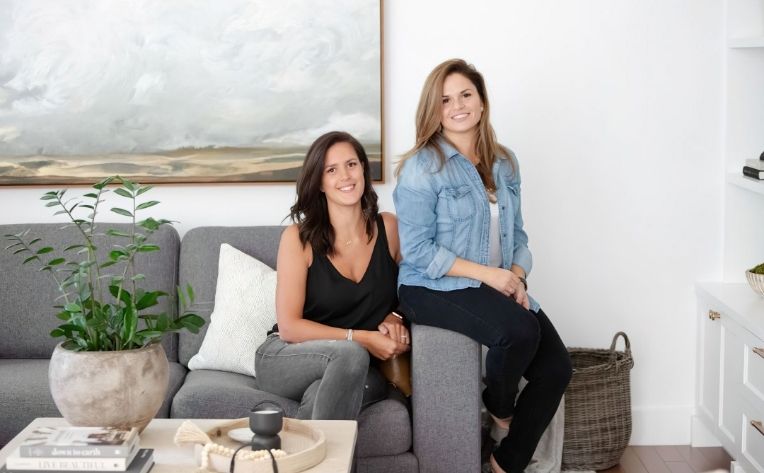 Design by Hibou Design + Co, Photography by Drew Hadley
Designing in a Sea of Blue
Written by Louis Duncan-He
As a brilliant designer, Louis Duncan-He breaks down how the color blue —which has become a staple hue for so many designs —can work with mixed metals and other household elements. In this piece, Duncan-He discusses the importance of variety, building a color story, and how to bridge your many shades of blue.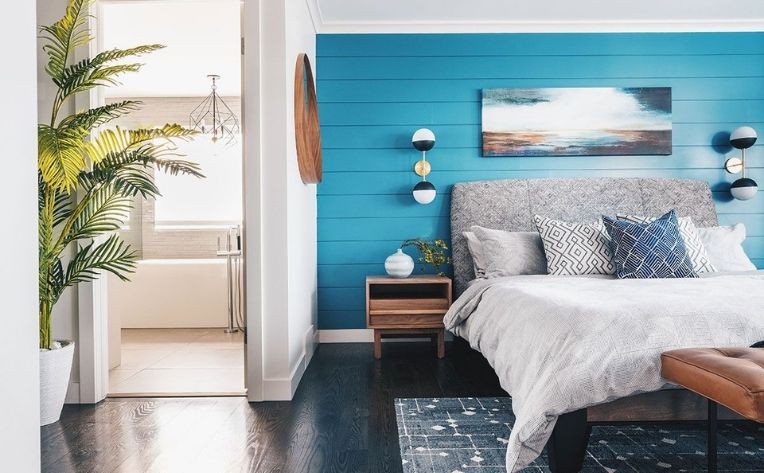 Design and Photography by Louis Duncan-He
Behind the Design: A Casual Lake Home Getaway
Written by Kate O'Hara
Delve into a stunning lake house designed by Kate O'Hara of Martha O'Hara Interiors. Featuring bright dining spaces both inside and out, unusual bunk space in the guest room, and a surprisingly bold kitchen color, the architecture of this home will make you long for lazy trips to the lake. O'Hara will walk you through her design ideas and challenges to reveal how she created a sanctuary dedicated to lake life.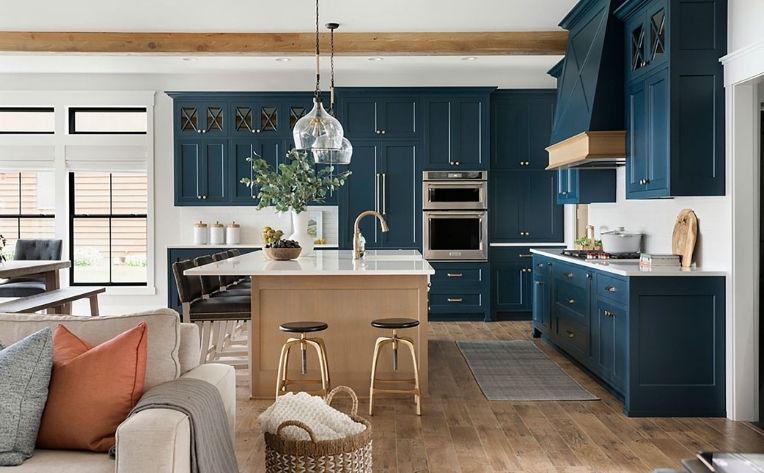 Design by Martha O'Hara Interiors, Photography by Spacecrafting Photography
Style Watch
We are the flooring specialists at Flooring America, and we've compiled a list of the top 10 flooring trends for 2021. Our Style Watch collection of flooring solutions, including carpet, luxury vinyl, tile, and more, takes the guesswork out of choosing a floor that complements this year's top trends, features, and technologies.
Continue Reading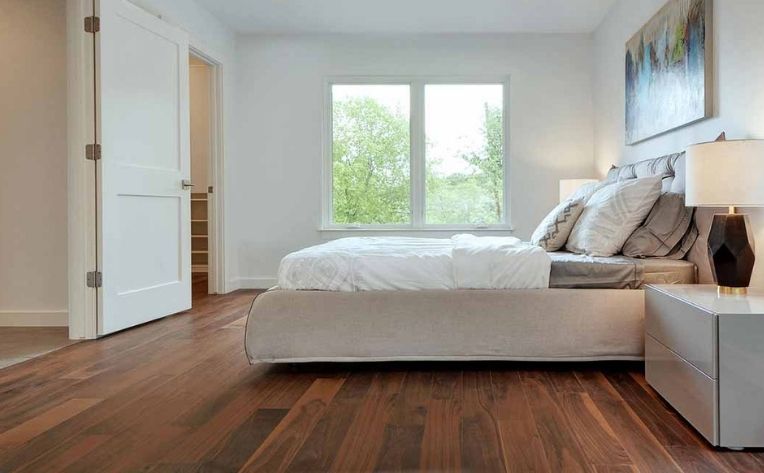 Jun 07, 2021
How to Find the Best Hardwood Floors
Hardwood floors are classic in any space. Choosing hardwood floors gives you a beautiful clean slate to create any decor style, whether you are looking for a modern oasis or a traditional home base. When it comes to choosing the right hardwood floors for your home, the best hardwood floors are dependent on…well, you!
The Key to Hardwood Floors Is You
As much as we would love to have a one-size-fits-all when it comes to hardwood flooring, the truth is everyone has different design needs and desires. But fear not, we have plenty of tips to help you find the right floors for you, your family, your pets, and your favorite activities. Choosing the right wood flooring goes well beyond color. Of course, color is important, but finding floors that are durable enough for your space and fit into your budget are considerations that can't be overlooked.

Foot Traffic Is a Factor
The first step in picking out your hardwood flooring is determining what room it will go in. This matters because the amount of wear and tear your floor experiences can often vary by room. For example, the spills and foot traffic that takes place in the kitchen far exceed those of the master bedroom. So, location can help determine what type of durability you will need when choosing hardwood floors.

You Don't Have to Break Your Budget
Another important factor to consider is your budget, as some wood types are more expensive than others. Ebony is one of the most expensive species of wood because it is not only rare but also durable and termite resistant. On the other hand, wood-look laminate and luxury vinyl planks are an inexpensive way to get the hardwood look you want for less.
In addition to different types of wood, there are various products and methods for finishing floors. Some wood planks come prefinished from the factory, and others need to be finished after installation. The cost varies for each type of floor and floor finish. To understand the details and cost of hardwood floors, visit or call your local Flooring America.

Hardwood Floors Come in a Rainbow of Colors
Last, how you want your floors to look is a major factor. There's an incredible array of wood species, but the most popular ones are hickory, oak, cherry, ash, maple, ebony, and bamboo. Each of these species has subspecies, that can range in color, and have unique grain patterns. For instance, cherry has distinctive warm red hues, where white oak is light and adds white accents. It's essential to have a vision for what you want your room to look like so you can find the right wood species and color.
It is also crucial to consider that wood changes over time. Seasonally, wood can expand and shrink, and sunlight can also change the coloration of your wood over time. Maintenance and refinishing might be required to keep your hardwood floors looking their best. As always, your Flooring America experts are here to help you every step of the way.
Continue Reading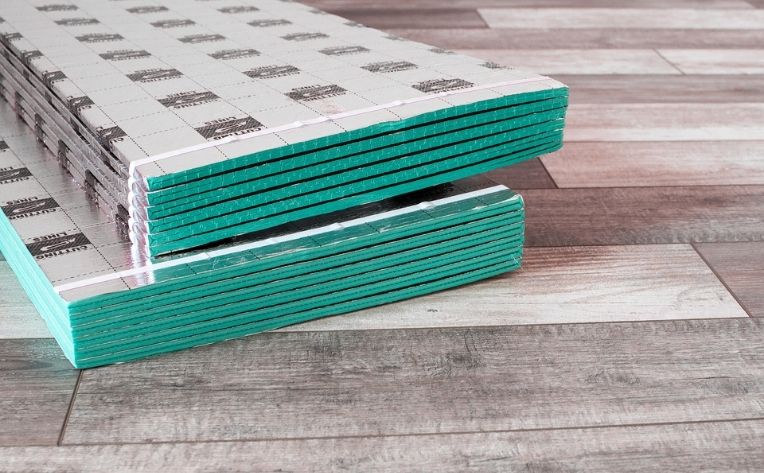 Mar 31, 2021
Ever hear the term "floating flooring"? Well, it's not a magic trick. Then again, in the world of flooring, you might consider it a bit magical. "Floating flooring" refers to the construction of flooring material that's essentially locked together using a system similar to puzzle pieces. The floorboards fit together, creating a tight bond and allowing your floor to be stable without any actual attachment to the subfloor. Having floating floors in your home is beneficial for a multitude of reasons. Let's explore whether a floating floor installation is right for your home or apartment.
Understanding Your Floors

Wondering if your floor is a floating floor? Look down. If it's "floating flooring," it might look like a single sheet, but it's actually made from three separate layers: the flooring material you walk on; an underlayment of subflooring; and finally, a strong network of joists that provide support like a skeleton. You can compare this to traditional installation methods, which work by having the flooring firmly nailed or glued to the layers below. This creates a permanent attachment that lasts until the floor is worn out, torn up, and replaced. Compared to traditional floors, since floating floors are placed atop the subfloor without fixation, they are much easier to switch up and change out.

Big Savings on Floating Floors

Speaking of ease, many homeowners like floating floors because they're easy to afford. Beyond often being much less expensive to install, if there is some sort of flooding or accident at your house—or, if you simply decide you'd like to do a renovation down the line—the cost of updating floating flooring is much less than replacing traditional floors. This is why floating floors are so popular in basements, kitchens, and bathrooms, where water damage can often be a reality, even with waterproof flooring.

Floating Floors, Many Options
There are three types of floors available for floating floor applications: laminate, luxury vinyl, and engineered wood. These floors have the technology to click into each other to create a seal that locks the planks together, forming an immovable bind. Laminate flooring is an extremely popular option for floating floors—it's durable, comes in beautiful wood-look and tile-look styles, and is most often connected using tongue-and-groove "click-lock" systems. Luxury vinyl flooring, which can imitate the look of wood, stone, and ceramic flooring, can be installed the same way. Recently, the popularity of engineered wood flooring has grown. This flooring is specially constructed using multiple layers of wood, with a finished layer of solid wood on top. This construction creates a lightweight, durable, and low-maintenance wood plank. Engineered wood floors are available in a floating "click-lock" option, as well as glue-down and nail-down. Cork is another option that many homeowners looking for floating floors love.

Talk to the Floating Floor Experts

Floating flooring is an excellent option for many reasons: ease of installation, budget, and style. If you're interested in learning more about floating floors for your house, ask the friendly home design experts at Flooring America. Whether your project is small or large, they're here to help you make sure everything goes smoothly. Contact Flooring America online to chat with one of their knowledgeable team members, or visit a retailer near you today.
Continue Reading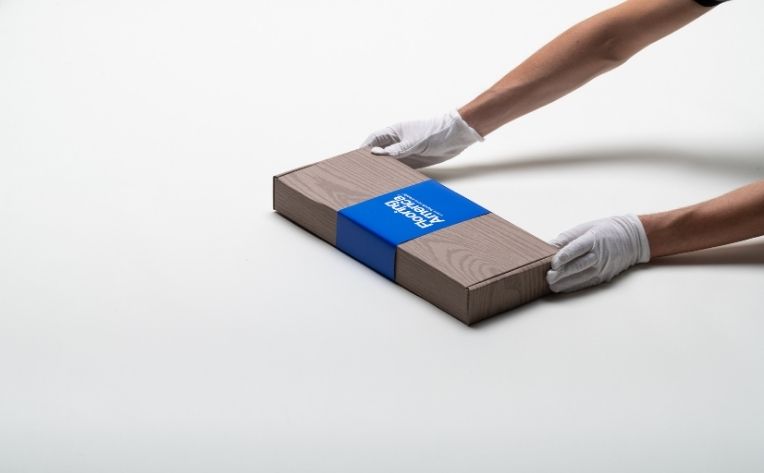 Dec 21, 2020
Deciding you're ready to purchase new floors for your home is always an exciting step. But—let's be honest—it can be a stressful process. There are simply so many options to choose from.
Thankfully, Flooring America has your back with it's flooring sample kits that allow you to test-drive multiple samples at home before you make the big commitment.
So whether you know for sure that you're getting a new carpet, or if you're still deciding between tile, hardwood floor, or luxury vinyl for your kitchen, you can mix and match flooring samples, try them out, and find the perfect fit for your home.
Light the Way
A key factor in choosing the right new floor for your room can be how different kinds of light will play on the new material. So it's a good idea to take your various flooring samples, and test how both natural and artificial light interacts with them. You can place your flooring sample by a window to see how sunlight throughout the day will look as the hours change, and you can also see how different lights "play" on your samples.

Eye for Design
One of the most fun (and productive) things to do with your flooring sample is to see how you like the look within your existing interior design scheme. You can hold up your flooring sample squares to your current paint color or your curtains, or place them on the floor next to your furniture. This is a great way to envision how your new floors will fit in with your overall design scheme, and super helpful in guiding you toward the right pick. Not to mention, it allows you the freedom to try samples in varying colors and textures.

Make a Mess
Usually, making a mess is not the best idea, but when it comes to your flooring samples, have at it! Especially if you're on the lookout for floors that are durable, aka spill-proof or pet-proof, it can be important to see how your samples interact with moisture, and wear and tear. So go ahead, spill some coffee on your sample, or scuff up the sample with your shoes. Treat your flooring sample the way you expect to treat your actual floors—and you'll find the right fit.

Need More Help?
Being able to sit with a variety of samples in your home for a bit, test them out, and really get used to the idea of how the different options could fit into your life makes arriving at that final decision that much smoother—and fun.
Be sure to check out Flooring America's sample kit service online, where you can easily browse our vast selection, and then get six flooring samples delivered to your door. Opportunity is knocking, so why wait?
Continue Reading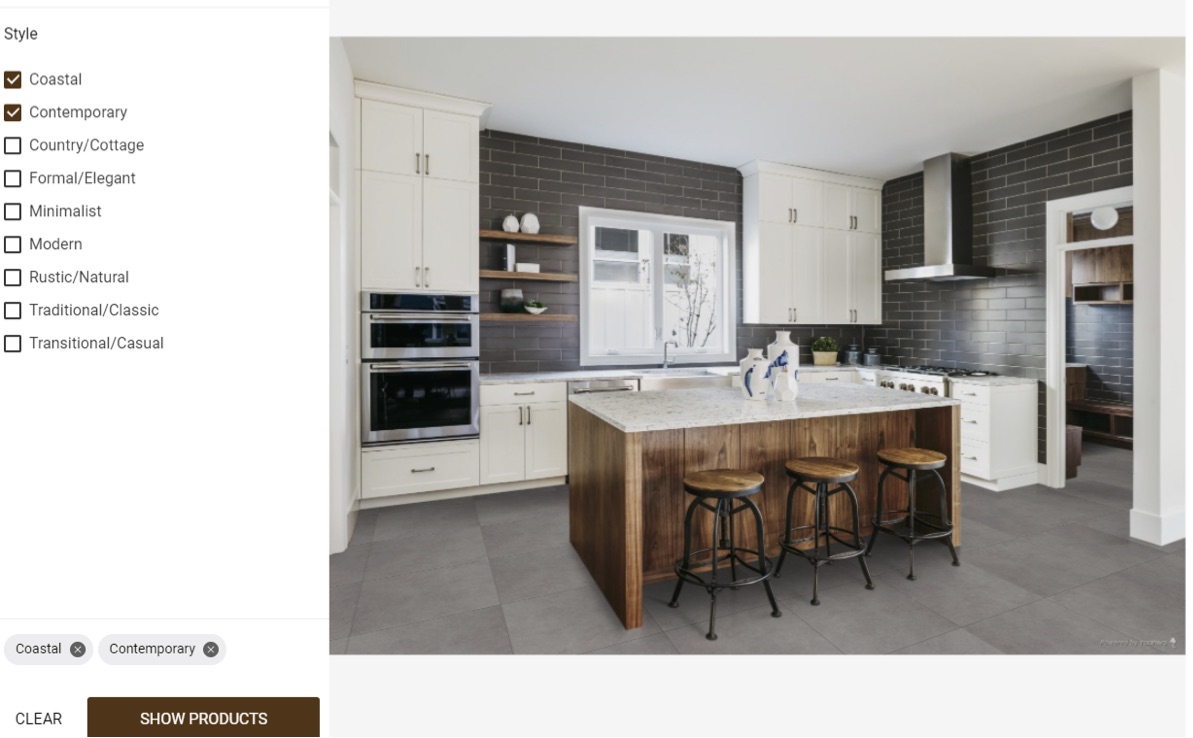 Nov 25, 2020
Do you ever wish you could magically see how a new floor might look in your home? Then you're in luck: Flooring America is excited to announce a brand-new online tool that is sure to make tackling your home improvement projects easier. Introducing Room Visualizer, a thoughtfully designed online tool created so that you can easily preview how new floors will look in any room of your home without ever having to leave your home! Here's how it works:
Getting Started
First, go to FlooringAmerica.com and click on the Room Visualizer link under About Us. You'll have the choice to either upload a photo of the room in your home that you're thinking of re-flooring, or choose one of our preloaded sample room photos. We've provided plenty of options if you don't have your own photo handy: there's a kitchen, a bathroom, a living room, and a bedroom in our photo library.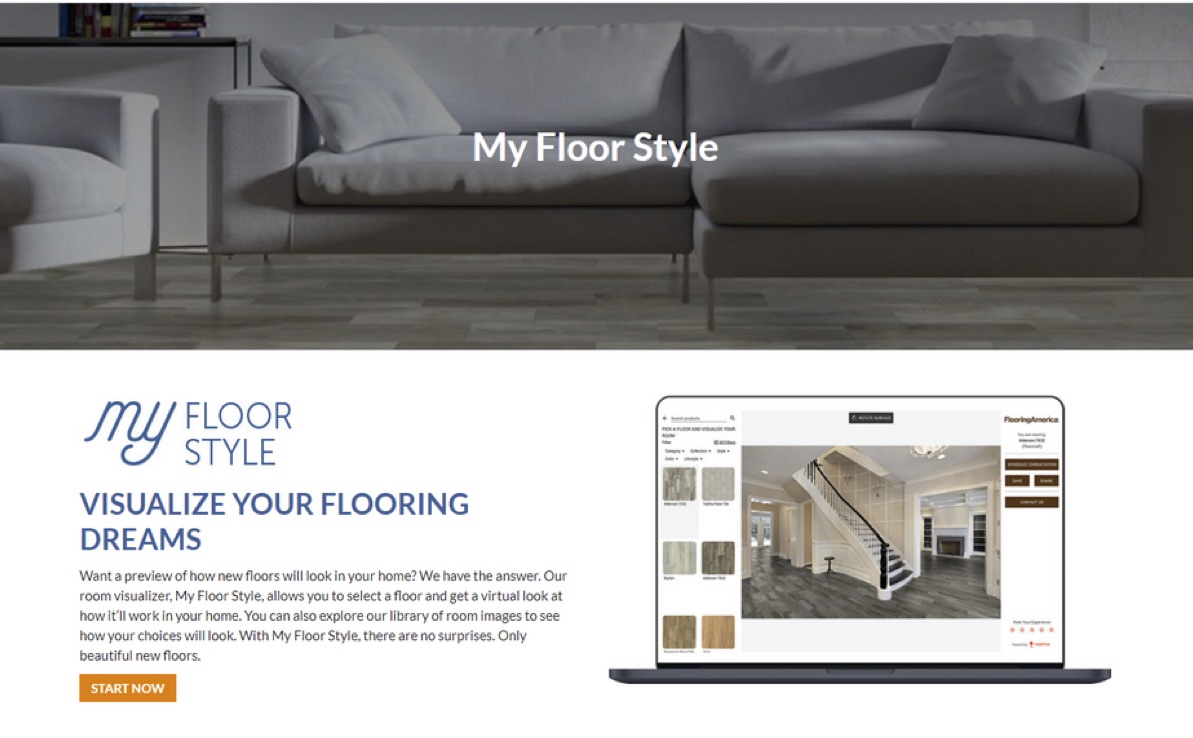 A Library at Your Fingertips
Once you've uploaded a photo, the real fun begins. The Room Visualizer tool allows you to explore a practically endless number of flooring options, from hardwood and carpet to luxury vinyl and tile. The tool makes it easy—and fun—to play around with how many different flooring options could work in your home. Plus, we all know that once you think about changing up the floors, the ideas really start to flow for rethinking other design options in your home, from a new paint color to a new couch.

Fun Filters
Another great feature of the Flooring America Room Visualizer tool is that it provides you with filters to assist in exploring—and narrowing down—all your potential flooring ideas. You get to filter all the options Flooring America has available by collection, style (ranging from minimalist to rustic, among countless others), color, and lifestyle. The Room Visualizer also allows you to mix and match filters, too. There's even a handy option to rotate floors! So if you're wondering, for example, how that tile in the bathroom would look if were laid in horizontally instead of vertically, you can simply make it happen.

Your Room Visualizer: Your Floor Style
Whether you're looking to just change up the floors in one room of your house, or to do a potentially bigger renovation and style overhaul, it can be hard to know where to start. But with Flooring America's new Room Visualizer tool, the stress of imagining how your new floors could look is gone. Take a spin around the Room Visualizer and bring on the fun of a virtual makeover. Just click to schedule a consultation or contact your local Flooring America today.
Continue Reading