Ceramic Tile in Franklin Square, NY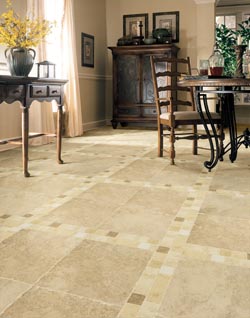 Take advantage of our special deals on ceramic tile flooring, and give your home the floors you've always wanted. Let us help you customize the appearance of your ceramic floor tiles to match the interior style of your rooms. If you need help deciding on the style, our knowledgeable sales associates are always happy to help. We have experience matching flooring styles with interior designs to ensure the patterns and color schemes complement each other.
After you settle on the style, you can trust our team to perform the installation. We handle ceramic tile installation projects of every size, and we make sure everything is properly leveled and securely attached to the subfloor. Your tile floor made of ceramic will fit the rooms or hallways in your home perfectly.
Why Ceramic Tile Flooring Is Ideal for Your Home

There are many different kinds of tile flooring to choose from, but ceramic tile flooring offers a host of benefits for any property owner. For instance, glazed tile is non-porous, so it won't absorb liquids and is impervious to staining. You also don't have to worry about water seeping through and causing structural damage to your subfloors. Properly installed tile is completely waterproof, making it perfect for kitchens, bathrooms, and other moisture-prone areas. Ceramic tile is very easy to care for and preserves its beautiful appearance for years to come with nothing more than routine cleaning and maintenance.
In addition to its strength and durability, ceramic tile flooring has an elegant look that makes it a great choice for any room in your home. People often use it to revitalize the appearance of bathrooms and kitchens, but it is also functional and attractive in hallways or even living rooms. You simply can't go wrong when you choose to put in ceramic tile.
An Exquisite Tile Floor Made of Ceramic
It is hard to beat the overall value you get with ceramic tile flooring. This versatile material is available in a huge range of styles, so you are sure to get the color and texture you prefer. It is also extremely resilient, requires little maintenance, and endures wear and tear for decades. Finally, the price you pay for this quality flooring is truly unbeatable.
Right now, we are offering $100 off ceramic tile installation. Our company also offers special financing options to help our clients acquire the floors they want while staying within their budgets. Few other flooring options provide the same level of style and quality at such reasonable prices.
Choosing the Right Type of Ceramic Floor Tiles
Ceramic is the most affordable and versatile type of tile on the market. It is light, inexpensive, and easy to work with. These qualities reduce the cost of materials and installation too, making ceramic a smart and cost-effective choice. Ceramic floor tiles deliver an excellent return on your remodeling investment.
Create a new look in your home or accent your current décor. Perhaps, you want to go for a retro checkerboard design or make a statement with something bold and creative. With a huge range of patterns, colors, and sizes to choose from, you're sure to find a design you love. Ceramic can even mimic the appearance of other flooring materials, such as granite or marble.
Studies show that bathrooms and kitchens are two of the most important rooms to house buyers. A small investment in these two rooms could pay off significantly down the road. A newly installed tile floor makes a big impact on visitors. It's a sign that you have invested in the future of your property and care about high-quality materials.
Ceramic Tile: More Than Floors!
Floors are just the beginning. Ceramic tile is also a great material for shower units, countertops, backsplashes, and more. The hard, smooth surface looks good and is comfortable underfoot. It's impervious to spills and stains, so it is a perfect material for the kitchen or bathroom. Whether you're stepping out of the shower or preparing a delicious meal in your kitchen, you'll be glad you chose ceramic tile.
Ceramic Tile Installation Made Easy
Installing a new floor may seem like a huge task, but our highly trained ceramic floor installation team makes it quick and easy. Sit back, relax, and leave the work to experienced professionals. Using time-tested methods and the latest technologies, we complete flawless installations with fast turnaround times. Our services are designed to suit your schedule and your budget.
Many clients believe that a new floor installation will be a huge disruption to their home or business. However, we work hard to minimize inconveniences to your family, employees, and customers. All our employees are friendly, polite, and courteous, and we keep our work area clean and tidy throughout the installation. After laying ceramic floor tile, we thoroughly clean the room to ensure your property looks its best. If you have any concerns or questions during the installation, don't hesitate to ask. We always aim for complete customer satisfaction, and our goal is to ensure our work meets and exceeds your expectations.

Contact us today to request a free estimate on ceramic tile flooring installation. We proudly serve Franklin Square, New York, and all of Long Island.