Tile Flooring in Franklin Square, NY
Establish a distinct look and feel to your home or business with the elegance of tile flooring in Franklin Square, NY. Our store provides stylish and durable tile flooring. Thanks to its long-lasting durability, ease of maintenance, and a wide variety of style options, our choices of ceramic, porcelain, or slate tile flooring are ideal options for any type of property. Our flooring store has everything you need to give your property more personality. In addition, our flooring specialists are happy to guide you every step of the way—from selection to tile flooring installation.
The Versatility of Ceramic Tile
Ceramic tile is a respected material in the flooring industry. Made from clay, sand, and water, this tile is the ideal material to give your property a stately appearance with an all-natural aesthetic. Tile is a durable material that resists scratches, spills, and stains with ease. Since it is made with non-porous materials, virtually any stain can be cleaned up with a cloth and floor cleaner. As such, tile flooring is a solid choice for kitchens, bathrooms, and other areas in your home that see heavy traffic and activity.
Unify form and function throughout your property. Tile is a multipurpose material that is as stylish as it is durable. With many choices for both ceramic tile and porcelain tile, as well as a variety of shades, textures, and colors, your customization options are nearly limitless. Make a statement with a floor of a solid color, or personalize your space with a pattern of your design. Create an atmosphere that suits you. Our associates are here to assist you every step of the way.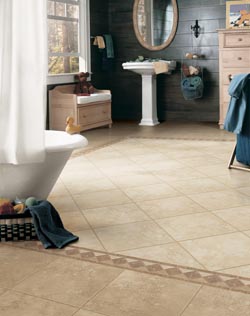 Strong Porcelain Tile That Lasts
Porcelain tile is highly regarded as a sophisticated flooring option. Made from denser clay and kilned at higher temperatures, porcelain is a strong flooring material that keeps its beauty even through heavy traffic and wears. As such, porcelain tile suits both formal and casual atmospheres. We recommend porcelain as a complement to decorative accents and trim. Our showroom features many popular brands of porcelain, complete with a stunning selection of colors and patterns. Give your home or office a sense of timelessness and install with porcelain, which is strong enough to be used both inside and out.
Slate Tile and Classic Aesthetics
Give your home a natural look and feel with slate tile. Hewn directly from stone, slate flooring imparts a grand sense of style to any type of property. This material is also as tough as it is artful. Slate is an ideal choice for kitchens, bathrooms, patios, and other areas that see a great deal of foot traffic. The beauty of nature is right here in your home or office when you pick slate. As always, our sales representatives are available to help you explore your design options, even for your walls.
Tile Flooring Installation That Fits You
You deserve to enjoy your new tile flooring according to your vision. For this reason, our tile flooring installation services are specifically tailored to your specific needs. Tile allows you to express your creativity throughout your property, so you are never limited to just a basic grid. From the retro checkerboard pattern to the classic subway style look, our skilled and experienced installation team is here to place your floor. We'll even help design and place tile borders.
Place your new tile floor with complete peace of mind. Our Ultimate Confidence Guarantee™ ensures total satisfaction. Our tile flooring installation team has the skill, equipment, and experience to place your floor exactly as you want it. If you are not satisfied with your purchase or our handiwork within 30 days of purchasing, we'll replace it at no additional cost to you.
---
Contact us today to learn about your tile flooring options. We proudly serve customers in Franklin Square, New York, and the surrounding areas.