Vinyl Flooring in Franklin Square, NY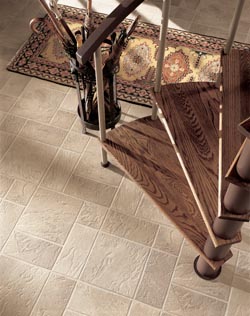 Searching for a durable and comfortable flooring option? Review our outstanding collection of vinyl flooring, which is beautiful, affordable, and easy to maintain. Choose from a large selection of colors and styles to match any room's theme, décor, and furniture. Upgrade your home with stunning new vinyl tile or vinyl plank flooring that guarantees longevity in looks and performance.
Because vinyl is durable and easy to clean, there is little maintenance required to ensure it stays sparkling and spotless. Your floors are sure to last for decades before showing any signs of daily wear, even in active households. With a strong resilience to dirt and water, our vinyl tile flooring works well in all of the following rooms:
Kitchens
Entryways
Finished Basements
Bathrooms
Playrooms
Workshops
Hallways
Dens
Family Rooms


Go Above & Beyond with Vinyl Tile Flooring
Enjoy the aesthetically pleasing look of wood or stone with softness underfoot from the spongey feeling of vinyl tile flooring. This type of flooring is comfortable to walk and play on, even for children and pets. To clean it, simply use a broom to sweep away the loose dirt and a mop to clear up any discoloration. You do not need to wax, resurface, or do anything else to your floors to keep them clean and shiny.
Save time and money with vinyl sheet flooring, which is the most affordable vinyl option due to the mass-produced rolls and easily manufactured materials. This also makes the installation process go smoother, faster, and easier than ever. The rolls of sheet can be laid down in just one or two unbroken pieces, and then your floor is done! Sheet vinyl does not have seams for dirt to get into.
Up the wow factor with vinyl plank flooring, often referred to VPF. The most high-end version of vinyl available, plank flooring delivers tremendously detailed designs of hardwood and natural stone aesthetics. This virtually waterproof flooring is a great choice for any room in your home, especially in areas with heavy moisture or high foot traffic.


Professional Vinyl Flooring Installation
Vinyl flooring installation is easy because of how the different pieces can be applied directly to your home's sub-floor. No demolition or stripping of your existing floor is required if you have existing laminate or linoleum. When you have our professional team of flooring technicians install your vinyl flooring, you can expect your floors to last for 20 years or more.
Take advantage of our warranties which are the best in the industry. If you notice something wrong with your floor within the first 30 days after installation, we are happy to replace it with a similar style of flooring at no cost to you, even covering the cost of labor.



Contact us today to schedule vinyl flooring installation for your home. Free room measurements are offered in Franklin Square, Nassau County, Long Island, Eastern Queens County, and Western Suffolk County, New York.